Chomsky will deliver his lecture to Bir Zeit University by video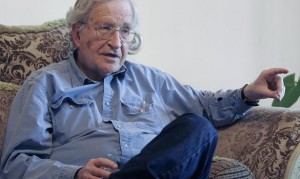 Noam Chomsky will deliver his planned lecture to Bir Zeit University in the West Bank by video, not in person, having been barred entry to the occupied territory by Israeli border officials.
The world renowned linguist and radical left scholar was held for three hours at the Allenby Crossing between the West Bank and Jordan.
During his cross examination he was reportedly told by a border guard reading from a prepared statement: 'Israel does not like what you say'. He was then asked why he did not have an Israeli passport and questioned about his meeting in Lebanon with Hezbollah leader Hassan Nasrallah in 2006 before being turned away.
Chomsky says the episode makes Israel look like 1960s apartheid era South Africa, which realised it was an international outcast but hoped good PR would resolve its problems.
This morning's Haaretz editorial concurs saying you don't have to be "an ardent supporter of Chomsky in order to agree with his view".
In Yedioth Ahronoth's oped pages, Boaz Okon condemns the episode as an "act of folly, part of a large series of follies in the recent period, which together could mark the end of Israel as a freedom-loving state of law, or at least pose a large question mark over this."
Israel's official response has been condemned by critics as a familiar routine of buck passing and disingenuous buck passing. Officials at first blamed an over-zealous individual border guard, then someone higher up in the interior ministry. It has now been characterised as a misunderstanding between two government departments.
The damage has been done though. Israel and its supporters have fought a long standing campaign against an academic boycott of the country. Now it's accused of encouraging a boycott of a Palestinian university by preventing Chomsky from addressing students at Bir Zeit.