Iran sanctions draft to go to UN Security Council today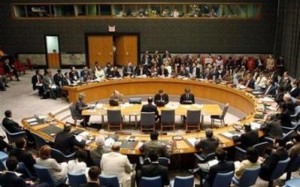 Secretary of State Hillary Clinton announced that a draft Iran sanctions resolution agreed by the five permanent members of the United Nations Security Council will be circulated to the full council today.
"Today, I am pleased to announce to this committee we have reached agreement on a strong draft with the cooperation of both Russia and China," Clinton told the Senate Foreign Relations Committee today. "We plan to circulate that draft resolution to the entire Security Council today."
The news that world powers plan to push forward with a UN Iran sanctions resolution signaled a sharp rebuke to a nuclear fuel deal unveiled by Turkey, Iran and Brazil in Tehran yesterday.
"I think this announcement is as convincing an answer to the efforts undertaken in Tehran over the last few days as any we could provide," Clinton said at the Senate panel START treaty hearing today.
Under the fuel swap agreement, Iran would remove 1,200 kilograms of Iran's stockpile of low enriched uranium to Turkey, and in return, receive higher enriched nuclear fuel cells for medical use within a year.
The Obama White House said while Iran agreeing to send the LEU abroad was a positive step, it still has serious concerns about Iran's nuclear program that the agreement did not address. Among those concerns are the fact that the agreement does not call for Iran to halt the higher enrichment of uranium it began in February.
Other western powers, including France and Russia, also expressed misgivings about the fuel swap deal.
The UN Iran sanctions draft has been unusually closely held, first as it was negotiated between the U.S., UK, and France, and in recent weeks with Russia and China.
A key section of the draft to be circulated to the full Council Tuesday will resemble a resolution passed against North Korea last summer after it conducted a nuclear test, the New York Times reports.
Consultations on the draft resolution were underway Monday, including in a meeting between visiting Russian Deputy Prime Minister Sergey Ivanov and Under Secretary of State for Political Affairs Bill Burns, who has served as the U.S. point man to international negotations on Iran's nuclear program.
Clinton dropped by the Burns-Ivanov meeting yesterday, and spoke with her Russian counterpart Foreign Minister Sergei Lavrov this morning, she told the Senate panel today.
While Beijing welcomed the fuel swap agreement negotiated by the Turks and Brazilians, it did not tip its hand on a UN Security Council resolution. "China has always believed that dialogue and negotiations are the best channel for resolving the Iran nuclear issue," a Chinese foreign ministry spokesman told a press conference in Beijing.
"The overall assessment that we already have is that we have much less difficulties with the Russians than with the Chinese" on a new UN Security Council resolution on Iran, a European diplomat said.
Turkey and Brazil are currently two of the ten non-permanent members of the UN Security Council and along with Lebanon would seem to be unlikely to vote for the Iran resolution. Several other Security Council non-permanent members are expected to vote for the resolution, including Austria, Bosnia, Gabon, Japan, Mexico, Nigeria, and Uganda.
A resolution needs 9 votes to pass, but three past UN Security Council resolutions on Iran have passed by overwhelming margins, with no members voting against.