Lebanon PM, Assad stress bilateral coordination in facing challenges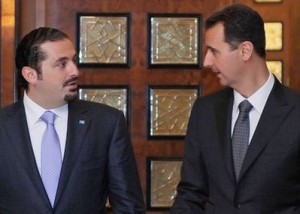 Lebanon Prime Minister Saad Hariri and Syrian President Bashar al-Assad came out of their meeting Tuesday affirming the need to maintain bilateral ties in the face of any challenge, the government owned Syrian Arab News Agency (SANA) reported.
"Assad and Hariri discussed the latest regional and international events," SANA said, adding that Assad was briefed by Hariri on the PM's upcoming visit, which includes several Arab and foreign countries.
Assad also briefed Hariri on the details of his meeting with Russian President Dmitry Medvedev, who visited Damascus last week and on his recent visit to Turkey, SANA said.
Hariri arrived in Damascus just after 1:00 p.m. on Tuesday. Following their meeting Assad hosted a lunch in Hariri's honor at the People's Palace.
Hariri's diplomatic Middle East tour aims at protecting Lebanon in the face of Israeli threats.
Hariri was in Saudi Arabia yesterday to meet with Saudi King Abdullah . After Damascus, Hariri is expected to complete his Middle East tour with a visit to Turkey.
This visit comes ahead of Hariri's first official trip to Washington to meet with US President Barack Obama on May 24.