Suleiman praises Kuwaiti role in Lebanon | Update|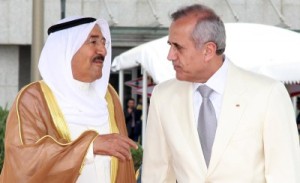 President Michel Suleiman praised the role of Kuwait in Lebanon noting that "the State of Kuwait has constantly extended aid to Lebanon for reconstruction and rehabilitation along the lines of what had happened in the aftermath of the war of July 2006, which had a major impact in the return of economic and social security of Lebanon and the return to the path of peace and stability . "
Suleiman spoke during a state dinner at the Baabda presidential palace which he hosted in honor of the visiting Kuwait Emir Sheikh Sabah al-Ahmad al-Jaber al-Sabah, who arrived in Beirut on Tuesday for a two-day official visit
Here are some highlights of Suleiman's speech:
*" Kuwait has never been reluctant to aid Lebanon or rebuild its infrastructure "
*" Kuwait was never hesitant to offer decent standards of living to around 100,000 Lebanese, despite their religious differences."
* " Kuwait was the first to invite [Lebanon] to the Arab Economic Summit, which was held in Kuwait in 2009 ". He added :"We are keen to execute the summit's decisions as a way to support Arab cooperation."
* "Thanks to Kuwait, the summit witnessed several Arab reconciliations that fostered [unity] in the face of Israeli aggression against the Palestinian people, as well as Israel's breaches in Lebanon."
Suleiman stressed the need to establish a "nuclear free zone in the Middle East and to require Israel to sign the nuclear Non-Proliferation Treaty (NPT)."
The Kuwaiti Emir's visit to Lebanon will be the final leg of an Arab tour that started in Egypt with stops in Damascus and Amman.
The visit is aimed at reinforcing the strong relations between the two Arab countries. Kuwait was always a supporter of peace and stability in Lebanon. It headed the committee that was established according to an Arab League resolution in 1988 to unite all Lebanese groups. The Kuwaiti and Arab efforts were able to reach in 1989 Taef Agreement which had a positive effect on Lebanon's security, stability, and development.
During the Arab Economic Summit that was held in Kuwait in January 2009, Lebanese President Michel Suleiman expressed great gratitude to Kuwait's government and people, saying they always supported his country's causes and made efforts to bring about Arab unity and stress joint Arab action.
Lebanon's Prime Minister Saad Al-Hariri, during an official visit to Kuwait in March, hailed the efforts of His Highness the Amir in stressing Arab solidarity and joint action, saying Arab conciliation began during the 2009 Arab summit in Kuwait. Kuwait is a friend of all Arabs, he emphasized
Update: The Kuwait Emir also delivered a speech in which he said his visit to Lebanon is aimed at enhancing bilateral relations and cooperation to benefit the interests of both countries.
He said he is happy he can visit Lebanon at a time when the country is witnessing political and economic growth, as well as national consensus.
The Emir thanked Suleiman and the guests