Miss USA comes from south Lebanon, celebrates both Muslim and Christian faiths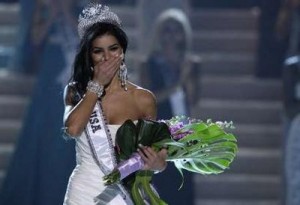 By BASSEM MROUE
The Lebanese immigrant who won the Miss USA 2010 pageant comes from a family that stood out for its tolerance in a religiously divided country, relatives said Monday.
Rima Fakih, 24, was born into a powerful Shiite family in a village in southern Lebanon that was heavily bombed during the 2006 Israel-Hezbollah war. But she and her sister said the family celebrates both Muslim and Christian faiths and prefer to be referred to as Lebanese, Arabs or Arab-Americans.
"We don't take sides and this is strange in a country like Lebanon," Rana Fakih said, referring to the civil war that was mainly between Muslims and Christians.
Rima Fakih of Dearborn, Michigan, beat out 50 other women to take the 2010 Miss USA title Sunday night at the Planet Hollywood Resort & Casino in Las Vegas, despite nearly stumbling in her evening gown.
Her sister said the new Miss USA was born in their southern village of Srifa, near the port-city of Tyre, after her parents could not reach their home near Beirut because of heavy fighting during the 1975-90 civil war.
She then attended the Catholic Saint Rita school near Beirut and immigrated with her family to the U.S. in 1993. She was raised in New York, where she attended another Catholic school, and the family moved to Michigan in 2003. The sisters have two brothers, Rabih and Rami, Rana Fakih said.
Rana Faqih, who moved back to Lebanon a few months ago for a new job, said her sister visits Lebanon regularly. Her last trip here was to celebrate the New Year.
Rana said she spent the night exchanging messages with her father, Hussein, and another sister, Ruba, who were attending the competition in Las Vegas.
"It was a beautiful surprise," Rana told The Associated Press in a telephone interview from Srifa.
She said her sister had to overcome prejudices that often face Arab-Americans in the United States, particularly after the Sept. 11 terror attacks.
"It was not easy for Rima to reach this title," Rana said, adding that her sister faced some criticism for being Arab. She did not elaborate but said the criticism came mainly from some American websites.
"We're very proud as Lebanese-Americans and as Lebanese that Rima reached this point despite all the pressures and stereotyping about Arabs and Lebanese. She made it. She fought and reached her goal," Rana said.
Local officials said the Fakih family is one of the largest in the village that has a population of about 10,000 people and surrounding areas.
As is common among Lebanon's Shiites, Fakih comes from a large, extended clan that includes everything from supporters of the Islamic militant groups Hezbollah and Amal to secular Shiites and even communists.
"We are very happy for this event and we should have done something here to celebrate," said Ali Eid, the head of the municipal council. But, he said, the village was busy preparing for municipal elections on Sunday.
Village Mayor Mohammed Hamed Nazzal also expressed pride.
"It is great news for us here that a woman from Srifa became Miss America." AP