France accused of striking deal with Iran on prisoner releases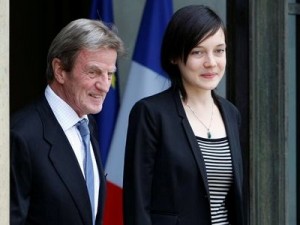 Paris judges are expected tomorrow to release an Iranian assassin from a long prison term in what appears to be part of a politically costly deal which won the freedom of a French student who had been held for 10 months in Tehran.
Ali Vakili Rad, who is serving a 1994 life sentence for murdering Shapour Bakhtiar, the last Prime Minister of the late Shah, in Paris, is to be flown home to Iran immediately after his release.
Brice Hortefeux, the Interior Minister, signed an expulsion order today clearing the way for him to leave prison after serving 18 years of a life sentence for the 1991 murder.
President Sarkozy's government continued to deny that his expulsion had any bearing on the return yesterday of Clotilde Reiss, 24, who was convicted of spying and sent home from Iran. They also denied that her release had any link with a Paris court's decision last week to refuse an American request for the arrest of an Iranian businessman. Majid Kakavand, 36, was wanted by Washington for exporting to Iran US-made electronics which had possible military use.
The opposition Socialist party and media saw the twin releases as the price that Mr Sarkozy had been forced to pay for the freedom of Ms Reiss, a Persian culture scholar who was teaching in Isphahan when she was accused of reporting to the French embassy on anti-government demonstrations and spying on Iran's nuclear plans. France paid a $285,000 fine to obtain her release from house arrest at the French embassy in Tehran, where she had been confined after six weeks in Evin prison last summer.
President Ahmadinejad, who last year demanded the Iranian's release from France as a quid pro quo, had skilfully imposed his demands on Paris, commentators said.
"We will retain from this adventure the fact that Iran has superbly manipulated and defied the democratic world and France in particular," said Midi Libre newspaper.
The opposition said that few believed that no deal or trade had been struck for the release of Ms Reiss.
Benoit Hamon, the Socialist party spokesman, said: "It would have been better if the Government had been honest about this."
Only six months ago, Mr Sarkozy had refused Mr Ahmadinejad's call for an exchange, saying that France would "not be blackmailed", the Socialists recalled.
The Reiss affair, which added strain to France's already difficult relations with Tehran, took a new turn when a senior former French intelligence officer claimed that Reiss really had provided intelligence to France.
She had been an informant for the DGSE, the external security and intelligence service, reporting on "internal politics and nuclear matters," said Pierre Siramy, a former under-director of the agency.
The DGSE and the government described the claim as nonsense. Officials privately dismissed Mr Siramy's allegation as mischief from a former officer who was in conflict with his former agency.
His claim was immediately seized on by Iranian media as proof of the charges against Ms Reiss. They made a link with the fact that her father works for the French atomic energy authority and that she had worked in a student job there. Timesonline