2 Israeli-Arab activists held on suspicion of spying for Hezbollah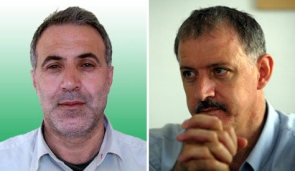 Two Israeli-Arab political activists have been arrested and accused of spying and contact with "agents from Hezbollah", Israeli police say
Omar Sayid, a member of the Israeli-Arab political party Balad was arrested on 24 April.
Amir Makhoul, head of a group of Arab organizations, was arrested on 6 May.
A gag order was lifted on the case on Monday, as Israeli-Arab organizations planned a protest against what they are calling political persecution.
The men were accused of "serious security offenses, including espionage and contact with a foreign agent from Hezbollah," Israeli police said.
Israel considers the Lebanese Islamist movement Hezbollah a terrorist organization.
Its military wing has fired rockets at Israel and captured and killed its soldiers in the past, while its political wing has two seats in Lebanon's unity government.
Israeli media reported that the arrests was carried out by the Israeli intelligence agency Shin Bet and Israeli police.
Gag order
A statement by Palestinian non-governmental organizations said 16 Israeli security agents and police officers raided Mr Makhoul's home in the northern Israeli city of Haifa at 0310 last Thursday.
It said he was immediately separated from his wife and two daughters, aged 12 and 17.
Mobile phones, laptops and computer hard drives were confiscated, the statement said.
Mr Makhoul is the director of Ittijah, the Union of Arab Community-Based Associations, the brother of a former Israeli-Arab member of Israel's Knesset, or parliament, and an outspoken critic of Israel's treatment of Palestinians and Israeli Arabs.
A gag order was placed on the case, but reports of the arrests were circulated on the internet by bloggers and websites based outside Israel and not subject to the order.
Police spokesman Mickey Rosenfeld told the Associated Press the gag order was imposed to "avoid harming the investigation".
The use of the gag orders, bans on media reporting, have been criticised by campaign groups recently.
Anat Kam, a 23-year-old former soldier, has been under house arrest since December. A gag order, in place until early April, prevented reporting that she was under investigation for various security offenses, including leaking classified military information apparently concerning apparently extra-judicial killings of Palestinian militants.
Demonstration called
The two men are being represented by lawyer Hussein Abu Hussein, and Adalah, the legal Centre for Arab Minority Rights in Israel.
Mr Abu Hussein told the Israeli newspaper Haaretz that espionage laws in Israel were so wide-ranging that an internet chat or telephone conversation with anyone in an "enemy state" could lead to prosecution.
Adalah, the legal center, said Mr Sayid was only able to see a lawyer on Sunday evening, and Mr Makhoul had not been permitted to see a lawyer at all.
Israeli-Arab groups called a demonstration in Haifa on Monday night to protest against the arrests.
A petition launched by several campaign groups said the Israeli authorities were using "arbitrary arrests and detentions" and "raids, deportations, travel bans, visa denials and media attacks," against pro-Palestinian activists.
Israeli-Arabs – people of Arab descent who stayed in Israel after its creation in 1948 – make up about 20% of Israel's population.
They have long faced discrimination, and some Jewish Israelis fear them as a potential "fifth column".
Hezbollah fought a 34-day conflict with Israel in 2006 during which more than 1,200 Lebanese people, mostly civilians, were killed. Some 160 Israeli people, most of whom were soldiers, also died.BBC