Berri: The Resistance is a necessity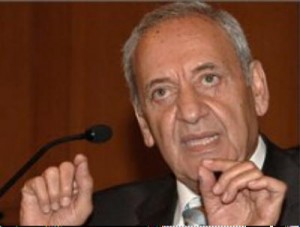 In a speech during a visit to Imam Moussa Sadr institutions in the southern port city of Tyre, Lebanon Speaker Nabih Berri on Saturday said "The Resistance is a necessity and a national need,"
Berri urged Lebanese to hold on to the Resistance and its arms.
"We must seek to obtain weapons for both the army and the Resistance to stress that the nation's borders, safeguards the homeland," he said.
On his relationship with Hezbollah Berri said:
The alliance forged between his AMAL movement and Hezbollah has encouraged other political parties to start similar coalitions between the various sects across the regions.
Berri criticized those who believe that "consensual democracy is heresy."
"Consensus is a necessity among the various political forces," Berri stressed.
According to observers , the majority of the Lebanese started having issues with Hezbollah and its arms after the 2006 war erupted with Israel. The war which was triggered by the kidnapping of 2 Israeli soldiers resulted in the killing of over 1200 Lebanese , mostly civilians. Following that war Hezbollah turned its guns against the Lebanese civilians , occupied downtown Beirut for nearly 2 years, occupied the western part of Beirut and tried but failed to occupy the Druze strongholds of Mt Lebanon , prevented the election of a president and tried but failed to overthrow the Lebanese government of former PM Fouad Siniora .