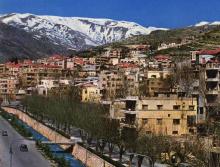 Zahle's Municipal elections are expected to be the toughest battle on Sunday as the Lebanese voters head to the polls in Beqaa valley.
Phalange MP Elie Marouni, a Zahle native said Saturday that he expects the municipal election battle in Zahle to be "extremely fierce." "It could be considered the mother of all battles in Lebanon," he added
The competition in Zahle is between three electoral lists:
1- One list supported by March 14 forces
2- Another list supported by former MP Elias Skaff
3- An incomplete third list
The list supported by March 14 accused Skaff of using outside security help from across the border ( meaning Syria), but Skaff denied saying the accusations should be backed by proof.
of coordinating with a "security official."
MP Joseph Maalouf, a key member of Zahle parliamentary bloc responded by saying "an interference from outside the borders" was encouraging voting in favor of the list backed by Skaff.
According to the pro-Syrian al-Safir newspaper contacts were made in the past hours between opposition forces to mobilize support for the list backed by Skaff and for the sole Free Patriotic Movement candidate Antoine Bou Younes.
FPM decided on the candidacy of Bou Younes after negotiations with Skaff for a consensus list failed . FPM said Bou Younes 's candidacy will be like a referendum
This error message is only visible to WordPress admins
Error: No connected account.
Please go to the Instagram Feed settings page to connect an account.