Iceland's volcanic ash results in flight cancellations, delays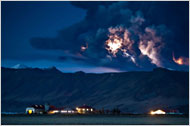 Many flights between Europe and North America were either delayed or canceled on Saturday because of the spreading cloud of volcanic ash stretching across much of the northern Atlantic, the European flight control agency said.
Flights had to be rerouted north over Greenland or south over Spain to avoid the cloud, which stretched 1,200 miles from Iceland to northern Spain, the agency, Eurocontrol, said. That was increasing flying times by about an hour in either direction.
"We assume that basically most of the trans-Atlantic flights will have to be rerouted on Saturday," a Eurocontrol spokeswoman, Kyla Evans, said. "We expect substantial delays because of that."
About 40 percent of the approximately 600 airliners that fly across the ocean every day will be rerouted southward, Ms. Evans said, and the rest will skirt Iceland from the north.
But relief appeared to be on the way. Meteorological charts showed that the area of high ash concentration was predicted to move west — above the Atlantic Ocean and away from the Spanish and Portuguese coasts — by Saturday night.
The plume of ash, from the Eyjafjallajokul (pronounced EY-ya-fyat-lah-YO-kut) volcano in southern Iceland, also forced the closing of 15 airports in northern Spain on Saturday and was expected to expand into southern France during the day, carried along by Atlantic winds. Spain's main international airports in Madrid and Barcelona were expected to remain open.
Slightly more than 100 flights were canceled at Portugal's three international airports on Saturday because of the ash cloud, the national airport authority, ANA, said.
Aer Lingus canceled flights from the United States to Dublin, citing the exceptionally circuitous routes to get around the cloud.
A trans-Atlantic trip from New York to Paris, which is normally about 3,600 miles, was expected to grow by 600 miles if diverted over the Iberian Peninsula.
An Air France flight from Boston arrived in Paris on Saturday with a delay of more than four hours. NYT