Merkel:Response to spread of Greek crisis to be 'decisive'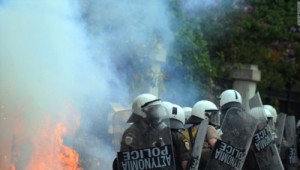 German Chancellor Angela Merkel said the response by European governments to the spread of the Greek financial crisis to other debt-burdened countries will be "decisive" as officials hammer out details of the plan.
Merkel said measures aimed at stemming the Greek deficit crisis had failed to ensure the stability of the euro as default speculation prompted yields on Spanish and Portuguese sovereign debt to climb to record highs. Speaking to reporters after she met with Canadian Prime Minister Stephen Harper in Berlin, Merkel said European leaders needed to respond together.
"It's a serious situation," Merkel told reporters. "If you look at the spreads from Friday or Thursday, it's an unwelcome development not only in one country but in several countries."
European Union leaders met in Brussels late yesterday and agreed to set up an emergency fund to prevent a sovereign debt crisis after faltering confidence in the euro sent the 11-year- old currency down more than 4 percent this week against the U.S. dollar. Leaders of the 16 countries that share the euro said a solution would be found by the time Asian markets open.
Merkel said the measures would include accelerated efforts to shrink budget deficits as well as stepped up financial-market regulation on elements such as short sales and hedge funds. She also said a "joint instrument" would be introduced to react against speculation harming the euro.
'Great Calmness'
"It's important that we act decisively, but also tackle the issue with great calmness," she said.
The extra yield that investors demand to hold Greek, Portuguese and Spanish debt instead of benchmark German bonds rose to euro-era highs yesterday. The premium on 10-year government bonds jumped as high as 973 basis points for Greece, 354 basis points for Portugal and 173 basis points for Spain.
Canada's Harper, who will chair a summit of G-20 leaders in Toronto next month, said markets have yet to appreciate the efforts to resolve the Greek debt crisis, adding he remains confident investors will begin to see the issue more rationally.
"Markets bounce up and down, said Harper, who today concluded a five-day tour of Europe. "I'm confident they will see rationality as we move forward."
Harper said the recent turmoil isn't a financial crisis and has to do rather with the fiscal situation for some countries.
"The fundamental crisis is not in the financial sector, it is in the finances of certain governments," Harper said, adding that is "essential" for governments to outline plans to rein in deficits.
European finance ministers meeting in Brussels tomorrow will hash out details such as the size of the stabilization fund, to be made up of money borrowed by the EU's central authorities with guarantees by national governments. The officials will meet at 3 p.m. tomorrow in Brussels. A press briefing is scheduled for 6 p.m.
Canada also announced today that the Netherlands, Spain, Vietnam, Malawi and Ethiopia also have been invited to the G-20 meeting next month.BW