Pakistan to investigate links of Times Square bomber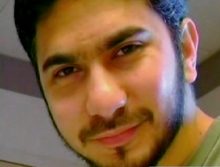 Pakistan's interior minister says his country will investigate whether the man arrested for an attempted bombing in New York's Times Square had links to militants in Pakistan.
Rehman Malik told reporters in Islamabad Saturday that U.S. authorities have asked Pakistan for information about Faisal Shahzad. The 30-year-old American citizen, born in Pakistan, was arrested Monday as he was about to leave the U.S., and he has been charged with trying to detonate a crude but powerful car bomb in New York City last Saturday.
Malik said the U.S. believes Shahzad has previously visited South Waziristan, the tribal region in northwestern Pakistan, and met with Pakistani Taliban commanders including Hakimullah Mehsud, who has threatened to launch attacks against the United States. However, the interior minister said details of Shahzad's past activities in Pakistan have not yet been confirmed.
Mehsud has led the Pakistani Taliban. Qari Hussain, another Taliban figure who reputedly met with Shahzad, is a senior commander known to train suicide bombers.
The Pakistani Taliban says it neither trained nor recruited Shahzad, and has disclaimed any links to the accused bombmaker. An earlier statement attributed to the Pakistani Taliban had said the group was responsible for the failed attack in New York.
U.S. officials have said Shahzad told them he was trained in handling and preparing explosives during an earlier visit to Pakistan.
Secretary of State Hillary Clinton says Pakistan has been warned there would be "severe consequences" if a successful attack in the United States is traced back to Pakistan. In an interview to be broadcast on U.S. television CBS Sunday, Clinton said Pakistan has significantly increased its efforts to fight terrorism, but that the U.S. wants and expects more.
A Pakistani police officer sits outside a house owned by the family of New York's Times Square bombing suspect Faisal Shahzad in Peshawar, 05 May 2010