Gumen arrested after firing at Pahalange convoy in Bikfaya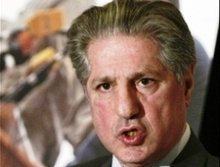 A gunman was arrested Sunday after opening fire at a Phalange party convoy in Bikfaya, the state-run National News Agency said.
NNA said the convoy was on its way to take part in the opening ceremony of a Phalange party office in Ein Sifsaf.
NNA said the gunman was promptly arrested by Lebanese troops.
The Phalange party identified on its website the gunman as Faisal al-Asheq, a member of the Syrian Social Nationalist Party.
Bikfaya is the home town of former Lebanese president and Pahalange party leader Amin Gemayel