Berri Threatens to Torpedo National Dialogue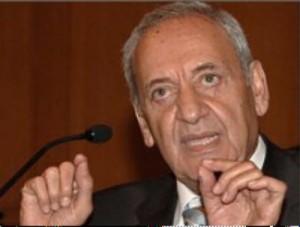 Lebanese Speaker Nabih Berri threatened to join Hezbollah and its other allies in torpedoing national dialogue if leaks to the media continued.
In remarks published by the daily As-Safir on Monday, Berri denied an argument had developed during last Thursday's all-party talks at Baabda Palace, saying: "All were ears" at the meeting.
Berri made a presentation at the latest national talks on defense strategy which had been leaked to the media despite appeals by President Michel Suleiman as well as Hezbollah and its allies for media blackout on reporting details discussed during meetings on a national defense strategy.
The Speaker said he had decided to circulate excerpts of his speech to the media "in light of the misleading information that had been leaked."
"I also wanted to send a clear message to some (political) parties at the negotiating table that national dialogue on a defense strategy would be in real danger if media leaks continue," Berri warned.
"I will inform all those whom it may concern that if this act continues in this way there would be no point to carry on dialogue," Berri added.