Jordan's King: Israel-Hezbollah-Lebanon War May Be "Imminent"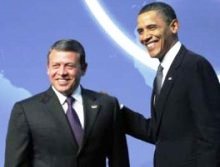 By: Steve Clemons, TPM
U.S. Congressman Adam Schiff hosted a "Members Only" meeting of the 'Congressional Friends of Jordan Caucus' in the US House of Representatives this Wednesday morning in the CVC Congressional Meeting Room with Jordan's King Abdullah II.
According to one attendee in the session, "the King's message was sobering." King Abdullah seemed significantly concerned that conflict was about to break out again between Israel and Hezbollah in Lebanon.
One congressional source told me that the word the King used was 'imminent' with regard to the potential outbreak of war.
On many levels, this is extremely worrisome. Hezbollah is now integrated into Lebanon's parliament and interacting with countries like France at all levels of government. An Israeli-Lebanon War could preempt the normalization track the United States is pursuing with Syria.
There are reports today about American concerns of Syrian supply of SCUD missiles to Hezbollah and/or training to Hezbollah personnel on SCUDs.
Tomorrow (Thursday), I will be attending the Syria National Day reception at the Mandarin Oriental Hotel in Washington where last year I saw many senior State Department officials, CNN's Wolf Blitzer, and several Congressmen.
Hopefully, America's renewed engagement with Syria will not be knocked off track — but there is no doubt that King Abdullah's warning to Members of Congress is stirring much concern.