UN envoy to Lebanon voices support for developing defense strategy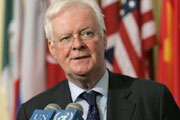 The top United Nations envoy to Lebanon today met with the minister in charge of administrative reform and voiced support for the country's national dialogue, a reconciliation process, which will meet tomorrow to discuss developing a national defense strategy.
Michael Williams, the UN Special Coordinator for Lebanon, also expressed UN support for the reinforcement of Lebanon's State institutions, during his discussions with the Minister of State for Administrative Reform, Mohammad Fneish, in the Lebanese capital, Beirut.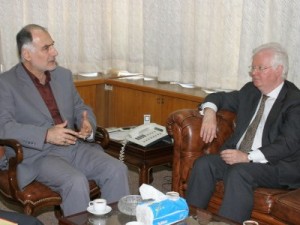 "We believe the Ministry of Administrative Reform, which is led by Minister Fneish, has a very important role to play in this regard," Mr. Williams said.
The Special Coordinator yesterday discussed the preparations for the forthcoming municipal elections with the country's Minister of Social Affairs, Salim Sayegh.
He welcomed the decision taken on 9 March as part of the national dialogue in which all political sides agreed to maintain a calm atmosphere during the polls.
The four rounds of the 2010 municipal elections are scheduled to be held every Sunday in May starting in Beirut, followed by the Bekaa region, then south Lebanon and finally in north Lebanon, according to media reports.