U.S. Senator McCain urges unilateral action on Iran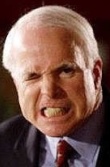 Pentagon and military officials told a congressional hearing today that Iran is at least one year away from enriching enough uranium to build a nuclear weapon — and three to five years away from producing the actual weapons itself.
Nevertheless, Democratic and Republican senators today expressed growing concern — if not impatience — in failed attempts by the U.S. and international community to force Iran to halt its efforts to develop a nuclear weapon.
In a testy exchange, Sen. John McCain led the charge in questioning both Pentagon and State Department officials, saying the U.S. should act unilaterally in an effort to cutoff refined oil and gas shipments to Iran and no longer wait for the United Nations to enact stiffer sanctions.
When the State Department's Bill Burns countered that it would be "very difficult" to get Russia and China to sign onto those kinds of tougher sanctions, McCain shot back that all the international communities efforts have failed so far to change Iran's behavior. When the Pentagon's Michele Flournoy waded in to say that Iran has in fact altered its behavior and Russia and China will sign on to new sanctions, McCain bristled saying there's "no justification" in her belief that Russia will play along since the Russians have been playing "rope a dope" with the US on this issue.
All members of the panel, when asked, gave the usual "all options are on the table" when asked if the U.S. has a military plan to strike at Iran's nuclear facilities but deferred any details to a closed session. MSNBC