U.S.:In Event of WMD Attack, 'All Bets Are Off'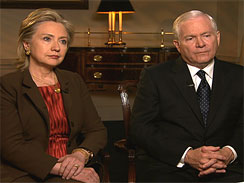 The Obama administration's nuclear posture review may have removed some of the intentional ambiguity from U.S. nuclear policy, but it does not leave the country any less safe, President Obama's top national security advisers said on CBS' "Face the Nation."
In fact, they said, it gives a clear warning to other state actors that the U.S. will not ignore any growing threats.
"This is putting everybody on notice," Secretary of State Hillary Clinton told CBS News chief Washington correspondent Bob Schieffer in an interview conducted Friday at the Pentagon. "We don't want more countries to go down the path that North Korea and Iran are."
The revised nuclear policy says that the United States will not use nuclear weapons to respond to a chemical or biological attack from a non-nuclear country. The policy, however, leaves significant contingencies, said Secretary of Defense Robert Gates.
Countries which are non-signatories to the Nuclear Non-Proliferation Treaty (such as North Korea) or have been found to be non-compliant (such as Iran) are not exempt from nuclear retaliation under the Obama policy.
"We were concerned about the biological weapons," Gates said, "and that's why the president was very clear … if we see states developing biological weapons that we begin to think endanger us or create serious concerns, that he reserves the right to revise this policy."
Clinton added, "If we can prove that a biological attack originated in a country that attacked us, then all bets are off."
Gates also pointed out that the policy dictates that any country that uses chemical or biological weapons against the U.S. will "suffer a devastating conventional retaliation."
The United States is also bolstering missile defense systems, in spite of concerns from Russia about the program that weighed down negotiations over the recently-signed New Strategic Arms Reduction Treaty. Clinton said the U.S. has reached out to Russia for cooperation in its missile defense program.
"We would like to see a joint effort on missile defense because we don't see the principle threat in nuclear terms coming from Russia, we see it coming from state actors like Iran or nonstate actors like a terrorist organization like al Qaeda getting ahold of nuclear materials," she said. CBS