Gemayel: Hariri, Suleiman should announce date of Municipal election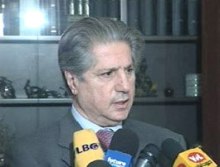 Following his meeting with Maronite Patriarch Nasrallah Boutros Sfeir in Bkirki on Tuesday, Phalange Party leader and former president Amin Gemayel told reporters "It was an occasion to discuss the general situations in the country, especially the municipal elections that should be held on time because it is absolutely illogical to postpone such a major constitutional and political juncture which competes with parliamentary elections in terms of importance,"
Gemayel said President Michel Suleiman and Prime Minister Saad Hariri should once and for all officially announce the scheduled date of the upcoming municipal elections, which are tentatively taking place in May.
Gemayel added that he discussed administrative appointments with the patriarch, criticizing the latest batch of appointments "which didn't respect sectarian balance, the thing that doesn't serve the national interest as well as the constitutional principle."
His comments comes after the government decided last week to convert 10,000 Internal Security Forces (ISF) staff members to full-time employees, two-thirds of whom are Muslims, as well as to recruit 4,000 new members from both genders.
In response to a question on the latest visits to Syria by Lebanese leaders, Gemayel said: "We want the best relations between Lebanon and Syria and between the two peoples as long as they are based on mutual respect and not only upon the sovereignty of each country and its independence. The special circumstances of each country must be respected."
Gemayel urged the government to define the framework of relations between the two countries and to reevaluate some agreements and treaties.
As to the issue of the Special Tribunal for Lebanon, Gemayel stressed that the tribunal will issue its verdicts no matter how long that takes, hoping for a nearby indictment that launches the trials.