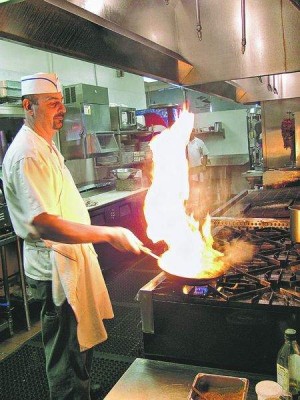 Growing up in Beirut, Lebanon, the restaurateur gets excited talking about a spinach stew his mother made using ground meat, spinach, pine nuts, onions and lemon. His other favorite meal was a split-pea stew with carrots, onions, garlic and tomatoes.
"I just love cooking. That's me," he said.
Soon after moving to the United States in 1990, the 42-year-old Hojaij began managing restaurants and eventually opened his first eatery 13 years ago in Troy. Just over two years ago, he opened Ollie's Lebanese Cuisine, in Dearborn just over two years ago. He picked Ollie as the American version of his own name.
He's hoping to duplicate the success of his Dearborn eatery and recently opened a second Ollie's in Brighton. It's in the space formerly occupied by La Meena Mediterranean Grill at 101 Brookside Lane in the Brookside Mall.
"I love home-cooked food," he said. "That's why I have a lot of home-cooked food on my menu."
While his two favorite dishes aren't on the menu, Hojaij said those stews will be featured specials in the future. He uses recipes from his mother and grandmother and creates his own recipes. The restaurant features Lebanese and Middle Eastern food such as beef shish kabob, ghallaba (sauteed beef or chicken with freshly cut vegetables) and vegetarian dishes.
He said the food at his restaurant is "always fresh," including the hummus, baba ghanooj (charbroiled eggplant), shish kabob (beef), shish tawook (chicken) and shish kafta (beef and lamb). The eatery serves up fresh bread from a gas-fired stone oven.
The restaurant is open for lunch and dinner seven days a week.
He said the food is healthy, and customers who have stopped by have already begun recommending the place to their friends.
With his 20 years of restaurant experience, Hojaij said he knows the business "from A to Z."
"If you want to get into the restaurant business, you have to know everything," he said.
At his Dearborn location, Hojaij spends most of his time in the kitchen, supervising and cooking. How will he manage two locations?
"I'm going to be jumping," he said, laughing. He typically works 70 hours per week, and he's only taken a few days off of work in three years. He usually works seven days a week.
"It's not the time for a weekend right now," he said.
He is married to Saada, who is a real estate agent. They have four children, ages 12, 9, 3 and 2; two sons and two daughters.
Restaurants are a tough business, and studies show most restaurants fail in the first few years. La Meena operated for 20 months before closing.
While he admits people aren't eating out as much in this economy, Hojaij believes he can succeed with a similar restaurant where someone else failed.
While people are cutting back on their expenses in this economy, he said people will continue to eat out. He said his place will have affordable prices and good, healthy meals.
He also said he's trained his staff to run a restaurant the right way, and he has employees who care about the business.
"I have the right people," he said. Livingston daily