Assad: Dispute with Egypt must be solved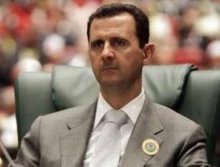 Syrian President Bashar al-Assad stressed on Sunday that "the dispute with Egypt must be solved."
Answering the questions at the end of Arab league summit in Libya on whether he intends to pay a visit to Egypt to congratulate President Hosni Mubarak on the success of the gall bladder surgery he underwent in Germany, Assad said: "If they want that."
If his Egyptian counterpart had been present, Assad said he might have met with him during the summit. Mubarak missed the gathering due to health reasons.
Syrian News Agency SANA reported on Sunday that President Assad a held a meeting with Egyptian Prime Minister Ahmed Nazif.
Relations between Egypt and Syria have been tense since the 2006 Israeli war on Lebanon, when Syria stood by Hezbollah, while Egypt and other Arab countries, among them Saudi Arabia and Jordan, considered that Hezbollah should bear the responsibility of the war because it initiated it when it kidnapped the Israeli soldiers.