Hariri arrived in Bulgaria on a two-day official visit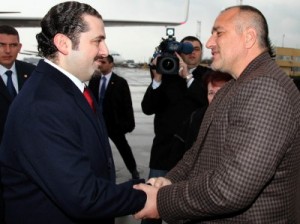 Lebanese Prime Minister Saad Hariri arrived in Sofia, Bulgaria on a two-day official visit at the invitation of Bulgarian PM Boyko Borisov. He was met at Sofia Airport by his Bulgarian counterpart
The Lebanese PM will be the guest of honor at a dinner attended by state officials and Bulgarian business representatives.
On Monday, the Prime Ministers of both countries are scheduled to discuss opportunities for strengthening bilateral trade and economic relations.
On Monday also , Hariri will meet with Bulgarian President Georgi Parvanov, and then with the Speaker of the National Assembly, Tsetska Tsacheva.