Deep chill in U.S.-Israeli relations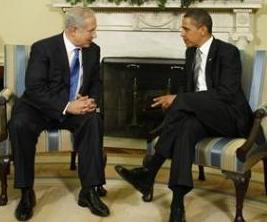 Bad personal chemistry, public confrontation and mutual silence a full day after a two-hour meeting Tuesday night between President Barack Obama and Israeli Prime Minister Benjamin Netanyahu have deepened the impression of a worsening fracture in the special relationship between the U.S. and Israel.
The visible gap between the two allies has offered encouragement to those who think only intense U.S. pressure can move Israel toward a resolution with the Palestinians. But it also threatens to drive the struggling peace process into a ditch and raises questions on both sides about how exactly the two leaders plan to end their growing rift.
"What you're witnessing in the U.S.-Israeli relationship is what happens when neither side has an effective strategy to manage the issues that divide them," said Aaron David Miller, a veteran U.S. peace negotiator. "If they don't find one, this is going to look more like a soap opera than serious policy in the next six to eight months."
American officials Tuesday offered only the most cursory description of the long conversation between Netanyahu and Obama at the White House.
"The president and prime minister met and had a full discussion about issues related to the U.S.-Israel relationship, including regional security and peace efforts," said White House spokesman Tommy Vietor. "The president asked the prime minister to take steps to build confidence for proximity talks so that progress can be made toward peace."
"There are areas of agreement and areas of disagreement, but the conversation is ongoing," he said.
"President Obama and the prime minister met privately for an hour and a half — the atmosphere was good," Netanyahu spokesman Nir Chefetz said in an even curter statement to the Israeli press.
Netanyahu met with U.S. special envoy George Mitchell on Wednesday and was scheduled to return to Israel later that night.
U.S. officials said they're working to force the Israeli prime minister to take control of what they and Palestinian leaders see as provocative new construction projects in East Jerusalem — and to ease the Israelis into limited, indirect talks with the Palestinians regarding a two-state solution.
But Netanyahu has indicated that those two things may be in contradiction and has spurned American demands for immediate confidence-building measures since a spat erupted two weeks ago over the construction in Jerusalem.
And it's clear that he has support for his position among American Jews and conservatives. "This administration decided to have a bad relationship with [Netanyahu] before he even became prime minister," said Elliott Abrams, a Mideast expert on President George W. Bush's National Security Council.
Both sides remained largely silent Wednesday on the content of the conversation between Obama and Netanyahu, and they disagreed on even the most basic descriptions of the format.
Israeli officials let it be known that the talks had broken for Obama to put his daughters to bed, then resumed. The White House was careful to point out that Netanyahu had made a special request for the second, 40-minute session — an indication that the first had gone badly.
Observers agreed that the poor relations appear to begin with genuine distrust. "It's clear there's no personal chemistry," said Abrams, who has been critical of Obama's Middle East policy, "and the question is, What do you do about that? Do you dig in, or do you try to dig out?"
The U.S. frustration, meanwhile, stems in part from a deep uncertainty over Netanyahu's long-term goals.
"For [the Obama] administration, details are magnified when they're not sure of Netanyahu's overall direction," said David Makovsky, a senior fellow at The Washington Institute for Near East Policy and author, with Obama aide Dennis Ross, of a recent book on the region. "If they had a sense of where he's going, they'd cut him slack."
That distrust feeds a vicious circle: Netanyahu, observers said, has refused — out of distrust — to signal to Obama how far he's willing to go in final-status negotiations. That caginess deepens the distrust.
"If last night they shared that strategic vision, that's what will repair the relationship," said Makovsky. "There's no sign of that, but of course we don't know."
Obama's initial high hopes and sweeping rhetoric about the possibilities of achieving progress in relations between Israel and the Palestinians have led him, like previous American presidents, into a maddening game of small ball over Israeli plans for building mere dozens or hundreds of units of housing.
His demands last year that Israel freeze all settlements drew a grudging compromise from the Israelis that was rejected by Palestinian leaders.
But Palestinian advocates have cheered the recent tough talk from the White House. And while supporters of Israel warned that the American rhetoric only makes it harder for Palestinian Authority President Mahmoud Abbas to compromise, others said it has served another Obama goal: convincing Arabs that the U.S. can be an honest broker in the region.
"This is a confrontation in which the American president cannot afford to be seen — and is not being seen — as the one who backs down, and that accrues a great deal of credibility with the Palestinians and other Arabs," said Hussein Ibish, a senior fellow at The American Task Force on Palestine. "That's what people want to see from the U.S. in the Arab world — they want to see an American president who takes a strong position and, when it's brazenly defied by Israel, that there are consequences."
Ambush
The Israeli press is describing Obama's meeting with Netanyahu as an "ambush" and a "hazing" amid a real sense of crisis over there.
The paper Yedioth Ahronoth (per a translation) has one measure of distrust:
Netanyahu opted to hold his consultations following the difficult meeting with Obama in the secure room on the second floor of the Israeli embassy in Washington, and not in his suite in the Mayflower Hotel. That way, Netanyahu was sure, the Americans would have a much harder time eavesdropping on what was said. The last time that something like this happened was 12 years ago. The prime minister's name back then was Binyamin Netanyahu as well. The president of the United States was called Bill Clinton.