Iraq's Allawi courting Lebanese leaders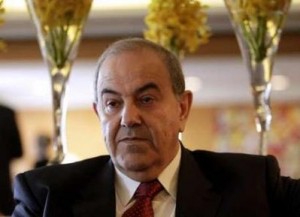 Frank discussions with the Lebanese and Iraqi governments were important for regional stability, said former Iraqi Prime Minister Iyad Allawi in Beirut.
Allawi left Thursday for Beirut to meet with top Lebanese officials as results from March 7 parliamentary elections in Iraq show a tight race between Allawi's secular Iraqiya slate and the State of Law coalition of Iraqi Prime Minister Nouri al-Maliki.
Allawi said talks with Iraq's neighbors were vital for the region, Lebanon's Daily Star newspaper reports Friday.
"Holding discussions with Lebanese officials promotes regional interests and stability," he said.
Leading Iraqi political figures toured the region ahead of the March vote. Maliki was criticized by his rivals for doing little to court leaders in the Middle East.
Allawi said it was "too early" to discuss the results of the election. Iraqi officials said the final tally would be announced by the end of March.
Asked about a Lebanese decision to boycott the summit of the Arab League scheduled next week in Tripoli, the Iraqi leader said Beirut had the right to make its own decisions.
Lebanese leaders said they would boycott the summit because Beirut believes Tripoli played a role in the disappearance of Shiite cleric Musa Sadr more than 30 years ago. UPI