12 wounded in Israeli missile strike in Gaza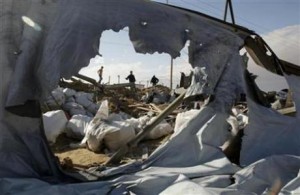 Hamas officials say Israeli aircraft have fired five missiles at Gaza's defunct airport and nearby border tunnels, wounding at least 12 people.
The Israeli military confirmed Friday's airstrikes, saying they targeted militant activities in response to recent rocket fire from Gaza.
The missile strikes come a day after rocket fire from Gaza killed a Thai worker on an Israeli communal farm near the Gaza border. Israel has said it holds Gaza's Hamas rulers responsible even though Hamas opponents said they fired the rocket.
Friday's missiles hit the defunct international airport in southern Gaza and tunnels dug by militants near the border with Israel. On Thursday, Israeli missiles hit smuggling tunnels and a metal workshop in Gaza.
Photo: Palestinians survey a smuggling tunnel destroyed in an Israeli air strike along the border between Egypt and the southern Gaza Strip March 19, 2010. Israeli aircraft struck at least six targets in the Gaza Strip on Friday a day after a rocket fired from the Palestinian enclave killed a Thai worker in Israel, Hamas security officials and witnesses said. Reuters