Moussa: Lebanon's participation in Libya summit should not be discussed through the media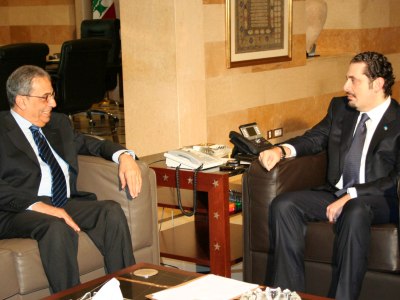 Following his meeting on Wednesday with Prime Minister Saad Hariri, Arab League Secretary General Amr Moussa said that Lebanon's participation in the March Arab League summit in Libya should not be discussed through the media because it would complicate the situation, the National News Agency (NNA) has reported.
"All crises have a solution and what matters is the evolving of the situation in a way that serves the public," Moussa said.
Libya sent the Lebanese Ambassador to Syria Michel Khoury on Monday an official invitation. However, upon instructions by the Lebanese Foreign Ministry the Embassy in Damascus rejected the invitation.
"The invitation was received by the Lebanese embassy in Damascus, which is not authorized to receive and respond to this invitation for administrative reasons," the Lebanese Foreign ministry said in a statement.
Lebanon was singled out by Libya as the only country whose top leader did not receive directly an invitation to the summit.
President Michel Suleiman stated last week that he does not intend to attend the summit.
Asharq al-Aswat newspaper reported that the summit is already "besieged by problems."
It cited, in addition to the Lebanon-Libya standoff, Egyptian President Hosni Mubarak's nonattendance due to illness as well as the absences of Iraqi President Jalal Talbani who is busy in Iraqi elections and his Lebanese counterpart Michel Suleiman who announced he would not attend the summit out of respect for the Shiite community which demanded a boycott of the meeting.
Shiites have been demanding Lebanese authorities to boycott the summit over the disappearance of Imam Moussa al-Sadr.
Sadr who is the founder of the Amal Movement disappeared following a trip in 1978 to Libya and the circumstances of his disappearance are still a mystery.
In 2008 Lebanon issued an arrest warrant for Libyan leader Moammar Gadhafi over the disappearance of the imam while he was in Tripoli with two companions, who also went missing with him.
Libya has denied involvement in Sadr's disappearance, saying he left the country for Italy. But the Italian government has always denied he ever arrived there.
In 2004, however, Italian authorities returned a passport found in Italy belonging to the imam.