Israel's 'spymaster' David Kimche dies at the age of 82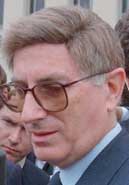 Former Mossad spymaster and Israeli diplomat David Kimchi has died at the age of 82.
He played a key role in the Iran-Contra scandal, which rocked the administration of US President Ronald Reagan in the 1980s.
He had been diagnosed with brain cancer a year ago, reports said.
Kimche was a former spy who rose to become deputy director of Mossad and then became director of the foreign ministry in the 1980s.
A descendant of a prominent Swiss Jewish family, Kimche was born in England and first worked as a journalist in London.
He fought in the 1947-1949 Arab-Israeli war that saw the birth of the state of Israel and went on to work as Paris correspondent for the Jerusalem Post.
'Secret contacts'
Kimche joined Mossad in 1953 and was active in Africa during the next decade, when military coups were commonplace in newly independent countries.
He also reportedly had clandestine contacts with Iran and Lebanon's Christian militias.
He left Mossad in 1980 and became the director general of the foreign ministry.
In 1982 he was Israel's chief delegate at the talks that ended the Lebanon War.
Later Kimche was the main contact between the US and Iran for covert arms sales which the US hoped would prevent Tehran-backed Hezbollah from kidnapping more US citizens.
The ensuing scandal was known as the Iran-Contra affair as money from the arms sales was channeled to right-wing paramilitaries in Nicaragua. BBC