Lebanon dismisses Syrian warrants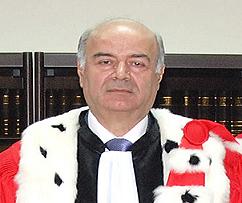 Prosecutor General Saeed Mirza has returned warrants that were issued by the Syrian judiciary three months ago over a lawsuit filed against a number of Lebanese political and security officials by former head of Lebanon's General Security Jamil Sayyed accusing them of slander and depriving him of his freedom.
Al-Hayat newspaper quoted judicial sources as saying that the warrants were dismissed "because they were improperly issued and not in accordance with legal norms."
Al-Hayat said Justice Minister Ibrahim Najjar has referred the warrants to the public prosecution, but added that Mirza decided to return them, citing lack of legality on the grounds that the alleged crimes took place on Lebanese territory.
Al-Hayat sources said the warrants were also dismissed for failure to respect the immunity these Lebanese officials enjoy
General Sayyed was angered by judge Mirza's action. He said on Tuesday that Mirza has committed a "flagrant violation" of a judicial deal signed between Lebanon and Syria.
Mirza's move "clearly shows his continued protection of false witnesses and their partners," Sayyed said in a statement released by his press office.
"Besides, he (Mirza) committed serious violations of the law," added the statement.
Sayyed who was a primary suspect in the assassination of Lebanon's former PM Rafik Hariri was released from jail last May by the Special Tribunal for Lebanon prosecutor along with 3 other generals for lack of sufficient evidence. The STL prosecutor Daniel Bellemare said that Sayyed and the other 3 generals could be back in jail once sufficient evidence of their involvement is found.