Official : Some Iraqi election results coming Wednesday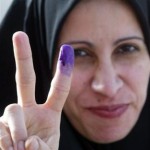 Iraq's electoral commission said Tuesday that it would announce partial results of parliamentary elections on Wednesday, providing an incomplete picture of the vote that will nevertheless provide the broad outlines of the country's political landscape. Party officials have acknowledged that a relatively small number of seats may separate Iraq's leading coalitions, a sign that negotiations to form a new government could be protracted. Although the lists of candidates led by Prime Minister Nuri Kamal al-Maliki and Ayad Allawi, a former prime minister, appear to be polling best, officials with a predominantly Shiite Muslim coalition predicted they would come in third and perhaps even second.
The Kurds were expected to poll well, too. Turnout in the three provinces of the autonomous region they control in northern Iraq was among the highest in the country.
"I think all the major four alliances have won between 60 to 90 seats each," said Hadi al-Ameri, a lawmaker and candidate with the Iraqi National Alliance, the largely Shiite Muslim coalition. "The other major lists won between 5 to 10 seats each."
The vote Sunday for the 325-member Parliament was viewed as a milestone by both Iraqi and American officials. The lawmakers will decide on a new prime minister and government that will preside over the country as the United States withdraws its military forces by the end of 2011, under a joint agreement.
Electoral officials had said before the vote that preliminary results would not be released before Wednesday or Thursday, and their announcement Tuesday indicated that they were on schedule.
Final results may not come until the end of the month, but already, politicians and party leaders have suggested partners in governing coalitions. Sunni tribal leaders, for instance, have proposed an alliance with Mr. Allawi, a secular Shiite. Others have stated their conditions. Followers of a radical cleric, Moktada al-Sadr, have made clear that they oppose Mr. Maliki's return as prime minister.
"It is impossible for Maliki to be the next prime minister," said Baha al-Aaraji, a Sadrist lawmaker and candidate. "He doesn't have good relations with any other bloc."
That the jockeying over coalitions was so pitched even before the votes were tallied was a reflection of just how unsettled the political landscape here remains.
"The State of Law coalition has drawn no red lines against any alliance," Ali al-Musawi, a media adviser to Mr. Maliki, said in reference to the prime minister's list. "We stand in equal distance from all of them."
"Everything is possible," he added.
By Anthony Shadid, New York Times