China Willing to Support Tougher Sanctions on Iran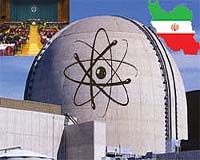 China might vote in the coming weeks for tougher United Nations sanctions aimed at blocking Iran's development of nuclear weapons, after initially saying this wasn't the time for new measures, a Chinese diplomat said.
China's differences with the U.S. and its European allies aren't as great as have been reported, according to the diplomat, who spoke on condition of anonymity. China isn't refusing to back sanctions, and its difficulties with the latest U.S.-drafted proposal can be overcome, the envoy said.
The U.S. gave China, Britain, France, Russia and Germany a proposal in the past week to tighten restrictions on dealings with Iran's banking, shipping and insurance industries. The plan also targets the Iranian Revolutionary Guard Corps that U.S. Secretary of State Hillary Clinton said has largely taken control of the country.
Clinton said this week that the U.S. believes Iran won't agree to a negotiated settlement of the dispute over its nuclear program until the UN Security Council takes a tougher stand. Chinese acceptance of new penalties might persuade reluctant Security Council member nations to sign on as well, envoys say.
"We would like any sanctions resolutions to be passed by as overwhelming a majority as possible because that gives it added force," Mark Lyall Grant, Britain's ambassador to the UN, said in an interview.
Chinese Ambassador
Chinese Deputy Ambassador Liu Zhenmin expressed support for the so-called dual-track strategy on Iran in the Security Council yesterday, meaning attempts at a negotiated settlement coupled with additional punitive measures if necessary.
"China has always stood for the international nuclear non- proliferation regime," Liu said.
Referring to the three sets of UN sanctions adopted since 2006, each of which China backed, Liu said they "reflect the common concerns of the international community" and were adopted to maintain efforts against the spread of nuclear arms and strengthen the authority of the International Atomic Energy Agency. The Vienna-based IAEA is the UN's nuclear inspection arm.
U.S. Ambassador Susan Rice later told reporters Liu's statement was an indicator of Chinese openness to consideration of the sanctions track.
'Something Important'
"We heard something important today in the council from China and it comports with what we are hearing directly from China, which is that they remain committed to the dual track strategy," Rice said yesterday. "We share a goal, the crucial goal, of not allowing Iran to obtain a nuclear weapons capacity. We remain, both of us, all of us, committed to these two tracks."
Iranian officials maintain that the country's nuclear work isn't meant for a weapons program.
The Chinese position is evolving from earlier statements that the time wasn't right for new sanctions, according to three European diplomats who spoke on condition of not being identified. Still, China's hasn't responded to the latest U.S. proposal, the envoys said.
China's tone has shifted in bilateral talks with the U.S., Britain, France and Germany, according to the Europeans. They say it's now more likely China will vote for a draft resolution, and that its backing will ease the current resistance of Security Council members Brazil and Turkey.
Clinton failed to gain Brazilian support for UN sanctions during a trip there this week.
'Watering Down'
Getting the votes of Brazil, China and Turkey will require "watering down" the current proposals, said Ray Takeyh, who served as an adviser to the Obama administration on Iran before joining the U.S. Council on Foreign Relations.
He expressed skepticism that whatever resolution the U.N. might adopt "will have the type of coercive economic steps that are going to affect basic Iranian decisions."
"The theory is to give the impression of international solidarity and then the U.S. and Europeans adopt their own rigorous sanctions," he said.
The European diplomats said that Russia, while publicly supporting negotiations on new sanctions, has expressed reservations about the latest U.S. proposal. A Russian diplomat, who spoke on condition of anonymity, said much hard work will be needed before any resolution is passed. BW