Gemayel: Lebanon has an important in ME peace process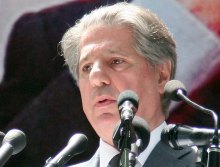 Lebanon's former president and Phalange Party leader Amin Gemayel said after meeting with a French parliamentary delegation that Lebanon has an important role to play in the Middle East peace process.
The French delegation was accompanied by French Ambassador to Lebanon Denis Pietton .
Gemayel added that "Lebanon remains the focus of nations' attention and the visits of (foreign) delegations aim at reinforcing the international support for Lebanon."
In response to a question about the upcoming talks he said : "Participating at the dialogue table to meet President Michel Suleiman's invitation is a normal thing … and I have extensively expressed my viewpoint on our reservations and objections on several things related to the structure of this national event."
However, Gemayel added: "We want this dialogue to be a gateway toward supporting Suleiman's efforts aiming at deep-rooting Lebanon's domestic peace process."
Gemayel called for "real openness about the core of the Lebanese problem and a reconciliation that can guarantee a reassuring future for the Lebanese people, especially the youth."
"The Lebanese have major concerns related to the internal situation and external threats, especially in the shadow of the violent Israeli rhetoric and threats against Lebanon."
Gemayel rejected "talking about war as a certainty as if we have no other option but war," adding: "We want to give peace all possible chances. Syria is trying to solve its dispute through indirect talks and it is responding to the Turkish initiative in this regard. Also, the Arab League is encouraging the Palestinians to continue the course of diplomacy." He said
"Why are we prevented from seeking political and diplomatic means to solve our own problems?" Gemayel wondered.
"We recognize the tragedies of war and its effects and we realize its cost and how much tears and blood it takes," he added.
As to Lebanon's participation in the upcoming Arab Summit in Libya, Gemayel said: "Lebanon will participate in this summit. As to the level of participation, it will be discussed among those concerned, and the president is the first one concerned to take the necessary decision: Lebanon has to defend its rights and to be present in the summit."
Gemayel said he is opposed to participation of the Arab League in the dialogue talks . "We have paid dearly as a result of foreign interventions in our affairs under many alibis, " he said.