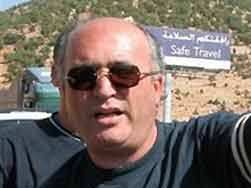 Former MP Nasser Qandil urged Lebanese President Michel Suleiman to postpone the national dialogue talks till after the Arab summit at the end of this month so as not to send the wrong message to the summit that Lebanon has a conflict with the arms of the resistance .
He added if "the President responds positively to my suggestion he will be able to find plenty of time to hear comments about the structure of the dialogue committee".
Qandil asked: Is it possible to honor someone who was sentenced to death by the highest judicial authority in the country by granting him the privilege of participating in the talks about the defense strategy ? He was referring to the invitation of Lebanese forces Leader Dr . Samir Geagea to participate in the talks
Qandil , a staunch supporter of Syria and one of the first suspects in the assassination of Lebanon's former PM Rafik Hariri said : "The release of ( Geagea) from prison and granting him asylum was a political game" .
Geagea was sent to jail during Syrian tutelage.