Saudi FM: We need immediate solution to Iran threats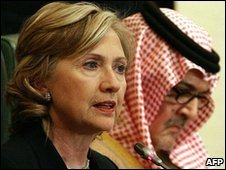 Saudi Arabia's foreign minister has cast doubt on the usefulness of imposing more sanctions on Iran over its nuclear programme.
Prince Saud al-Faisal said the threat posed by Iran demanded a "more immediate solution" than sanctions.
He was speaking in Riyadh at a joint news conference alongside US Secretary of State Hillary Clinton, who earlier said Iran was "becoming a military dictatorship".
Prince Saud said: "Sanctions are a long-term solution.
"They may work, we can't judge. But we see the issue in the shorter term maybe because we are closer to the threat… So we need an immediate resolution rather than a gradual resolution."BBC