Assad's brother-in-law Assef Shawkat confirmed dead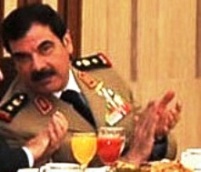 The brother-in-law of Syrian President Bashir al-Assad, who also is the troubled nation's former intelligence chief, is dead after an apparent assassination attack Sunday in Damascus, Syrian opposition leaders tell U.S. News & World Report.
The Free Syrian Army, an armed opposition group that has been fighting Assad's military for months, said Sunday it had killed six senior members of Assad's cabinet. The Assad regime denied those claims, according to official state media reports, but it is often difficult to get accurate information out of the country.
It remained unclear into Monday evening in Damascus whether Assad's brother-in-law, Assef Shawkat, had been killed in the alleged attack.
But a senior member of one Syrian opposition group says the organization has learned Shawkat has died.
The source says that "a special unit from the Free Syrian Army poisoned the meal" being consumed Saturday evening by Shawkat and other senior Assad regime officials. The source said opposition leaders do not believe the special unit received assistance from U.S., Western or regional intelligence agencies or militaries.
A White House spokesman said he could not confirm the claim of Shawkat's alleged death.
Media reports from the region stated Assad's interior minister, defense minister and a deputy to his vice president also had been attacked.
The hospital where the officials allegedly were taken "has been locked down for two days," the opposition official says.
If Shawkat and other senior Assad cabinet officials are dead, "it would be a huge setback for the regime," the opposition official says, because "this was the group leading the [conflict] for the regime."
The opposition official's claims that Shawkat has died in the Free Syrian Army's multiple-assassination plot comes hours after Ivo Daalder, Washington's ambassador to NATO, told reporters on Sunday evening that there is "no planning going on that's related to a NATO role in Syria."
Several Middle East nations have quietly been working to get more sophisticated arms to Syrian rebels, according to sources and media reports. The multiple-assassination plot suggests rebel forces are growing in sophistication and capability.
Khaddam confirms
Abdul Halim Khaddam , the former vice president of Syria confirmed that Assef Shawkat was been killed on 19 May, 2012
About Shawkat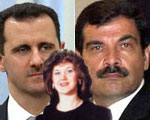 General Assef Shawkat (1950 – 2012) was the deputy Minister of Defense of Syria since September 2011. He previously served as the army's deputy chief of staff from July 2009 to September 2011. He then bypassed the position of chief of staff to become deputy Minister of Defense. Shawkat was considered one of the president's top security chiefs, however, he was replaced in 2010 as head of Military Intelligence and made deputy chief-of-staff of the armed forces. Although he was also promoted, opposition figures said he was seen to have been at fault in the 2008 assassination of Hezbollah military commander Imad Mughniyeh in an area of Damascus that fell under his responsibility. He is a member of President Bashar al-Assad's inner circle. Since the appointment of General Dawoud Rajiha to head the Ministry of Defense, Shawkat was an important figure in the Ministry of Defense, though the army is under the de facto control of Maher al-Assad, the president's brother.
Born in 1950 to a middle-class Alawite family in Tartous, he studied law at Damascus University. He joined the army in the late 1970s.
He rose through the ranks, but his fortunes changed spectacularly in the mid-1990s when he married Bashar Assad's only sister Bushra- despite misgivings from within the Assad family because he was a divorced father-of-five who was 10 years her senior. They eloped after the death of Basil al-Assad, who had objected to the match.
Khaddam said that Gen Shawkat was a "smart, cultivated, and courageous officer with great ambitions", who had established ties with intelligence chiefs and other powerbrokers.
But there were reports of friction with Bashar's brother, Maher, who is alleged to have shot him in the stomach in 1999. He was allegedly flown to Paris for treatment at a military hospital.
In 2005, Maher and Shawkat were both mentioned in a preliminary report by UN investigators as one of the people who might have planned the assassination of the former Lebanese Prime Minister, Rafik Hariri.
The next year, Gen Shawkat was named a Specially Designated National (SDN) by the US, allowing his assets to be frozen. It said he had "been a key architect of Syria's domination of Lebanon, as well as a fundamental contributor to Syria's long-standing policy to foment terrorism".
US news WR, BBC