Finland, Sweden ready to join NATO, U.S. says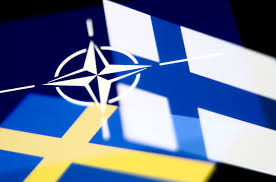 WASHINGTON (Reuters) – The U.S. State Department on Monday said Finland and Sweden are ready to join the NATO alliance, after Turkish President Tayyip Erdogan said Sweden should not expect Turkey's support for its membership after a protest near the Turkish embassy in Stockholm at the weekend including the burning of a copy of the holy Qor'an.
State Department spokesperson Ned Price told reporters that burning books that are holy to many is a deeply disrespectful act, adding that "something can be lawful but awful."
Turkish opposition not new
Turkey has opposed Sweden's entry before the burning of a copy of the holy Qor'an.
Six months since Turkey agreed to NATO allies inviting Sweden and Finland to join the alliance, the expansion has stalled as Ankara holds out on ratifying the applications.
Fresh tensions flared earlier this year after protesters in Stockholm affiliated with Kurdish movements hanged an effigy of President Recep Tayyip Erdogan, prompting Turkey to put yet more pressure on Sweden to crack down on outlawed groups.
Now, with a Turkish election due in June, and Erdogan hinting repeatedly that the vote could come in May to keep the opposition off-balance, the situation seems more in limbo — even if NATO diplomats are confident it will be resolved in the end, potentially in time for the alliance's summit in Vilnius in July.
By now, 28 of the North Atlantic Treaty Organization's 30 members have ratified the Nordic application, with Turkey and Hungary the lone holdouts.   
Some in NATO are reportedly suggesting that if Turkey continues to opposes Sweden's entry , it may be kicked out of NATO
Reuters/Bloomberg