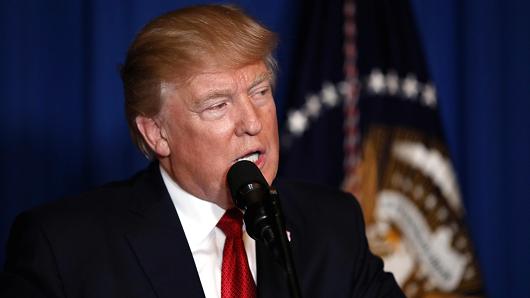 President Donald Trump is set to announce a new response to Iran's "bad behavior" in the Middle East, the White House said on Friday.
It will not be aimed at one facet of Iranian policy, but many, including Iranian support for extremist groups in the Middle East, its ballistic missile tests and its online operations, Sarah Huckabee Sanders, the White House press secretary said.
"The president isn't looking at one piece of this. He's looking at all of the bad behavior of Iran," she told reporters.
"Not just the nuclear deal as bad behavior, but the ballistic missile testing, destabilizing of the region, Number One state sponsor of terrorism, cyber attacks, illicit nuclear program," she continued.
Since his inauguration, Trump has set about containing Iran's influence in the Middle East, openly criticizing the landmark nuclear deal signed between Tehran and world powers in July 2015 that the president has repeatedly called "the worst deal ever negotiated."
Sanders said that Trump would announce the new reaction to Iranian moves within the next week.
"[President Trump] wants to look for a broad strategy that addresses all of those problems, not just one-offing those," she said. "That's what his team is focused on and that's what he'll be rolling out to address that as a whole in the coming days."
Trump aroused speculation that he had a big foreign policy move in the works when he announced Thursday evening, before a meeting with military leaders, that it was the "calm before the storm."
His administration says Tehran has challenged the "spirit" of the nuclear deal aimed at pegging back its uranium enrichment program. The country continues to test ballistic missiles that U.S. allies Israel and Saudi Arabia claim could be used against them.
Washington is also concerned about what is being referred to as Iran's "Shia Crescent" of proxies across the Middle East: the Islamic Republic backing Shiite Houthi rebels in Yemen who are battling a Saudi-led coalition, Lebanese Shiite militant group Hezbollah, which fought a war with Israel in 2006, and Palestinian militant group Hamas in the Gaza Strip, which has fought three wars with Israel since 2008.
Iran also backs the regime of Syrian President Bashar al-Assad, a leader from the Shia minority Alawite sect. In the six-year-long civil war, alongside Russia, the country has provided ground troops, tactical advisers and Shiite militiamen from countries such as Afghanistan to bolster the dictator's ranks.
Both Iran and the U.S. are working to defeat the Islamic State group (ISIS) in Iraq and Syria, but the U.S. role is limited to special forces on the ground and a coalition of air forces bombing the radical Islamist group. Both countries are trying to avoid any escalation between their militaries in Syria.