March 14 accuses FPM of "state terrorism" after minister Abi Khalil sued 400 activists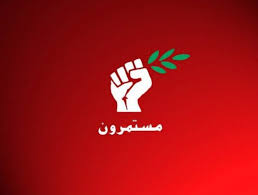 The March 14 Moustamerroun group of activists slammed on Wednesday what they labeled as "political terrorism" and "state terrorism," after Energy Minister Cesar Abi Khalil of the Free Patriotic Movement (FPM) filed a lawsuit against those who  "launched accusations against the energy minister and his political group" in connection with the Turkish power ships scandal .
"The ruling class in Lebanon has invented a new type of political terrorism represented in the lawsuit filed by the 'ruling party' against 400 politicians, journalists and citizens in connection with the political confrontation between the ruling class and its opponents over the files of corruption and public funds waste," said the group in a statement issued after its weekly meeting.
The group called for  "immediate and decisive steps to confront the blatant coup against the law and Constitution,"and  warned that "the reluctance of syndicates, civil society groups and political parties and forces from confronting the state's terrorism would require resorting to the international community, human rights institutions and international courts to rein in the Lebanese ruling class."
The activists also accused the ruling class of seeking to "employ the judiciary in the service of its own interests in contravention of the Constitution and the law," adding that "such practices are reminiscent of the practices of the Lebanese-Syrian security apparatus that controlled Lebanon and the Lebanese for 15 years."
Harb offers to defend the 400 activists 
"I will ask the Speaker to lift my immunity as an MP and I hereby announce as a lawyer that I will offer my pro bono services to defend all those who have been accused by Minister Abi Khalil," LBCI quoted Harb as saying.
A tender to lease power generating ships was approved by the Energy Ministry in May, in light of accusations voiced by several  political parties dubbing the procedure as an "illegal deal."
In the wake of the tender, phalange  Party chief MP Sami Gemayel submitted an official request to form a parliamentary panel of inquiry to probe suspected violations in the file of power generation ships.
He said the panel should "probe suspicions and violations against the applicable Lebanese laws and public funds that have marred the awarding of contracts and the work of the power ships since 2013 as well as suspicions and violations related to the ships that will be rented for 2017."