Hezbollah chief calls for Saudi- Iran dialogue, says it is only way forward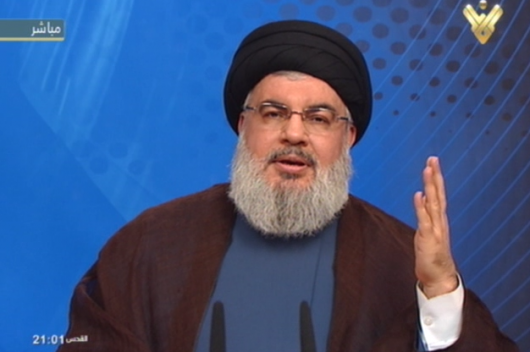 The chief of Lebanon's Hezbollah group is telling Saudi Arabia that dialogue with Iran is the only way forward, lashing out at the kingdom's lavish royal welcome of U.S. president Donald Trump.
In a speech Thursday, Sheikh Hassan Nasrallah said the U.S. president is 'only interested in money' and is the most 'racist' U.S. president against Arabs and Muslims. He says the Saudi welcome and deals signed are a sign of the kingdom's weakness.
Nasrallah accused Saudi Arabia of bribing Trump:
"Saudi Arabia is behind the takfiri thought and the takfiri groups and the entire world knows this, that's why the Saudi regime sought to offer a bribe to (U.S. President Donald) Trump," Nasrallah added, referring to the deals that were signed between Riyadh and Washington during Trump's visit.
Nasrallah was speaking days after Trump signed a $110 billion arms deal with Saudi Arabia aimed at bolstering Saudi security, and after the U.S. State Department announced sanctions on senior Hezbollah leader Hashem Safieddine.
Nasrallah dismissed the sanctions as laughable and said such summits and declarations "will not make any difference."
Slamming Hezbollah and Hamas in his speech at the Arab Islamic American Summit, Trump blamed Iran for destabilizing the Middle East and called for a crackdown on its allies, including Hezbollah.
Lebanon's Hezbollah was formed by the Quds force, the International arm of The Iranian Revolutionary Guard Corps (IRGC), a branch of the Iranian military. Both Saudi Arabia and the US consider Hezbollah a terrorist organization.
AP/ Lebanese media