Is Berri trying to extend the parliament's term?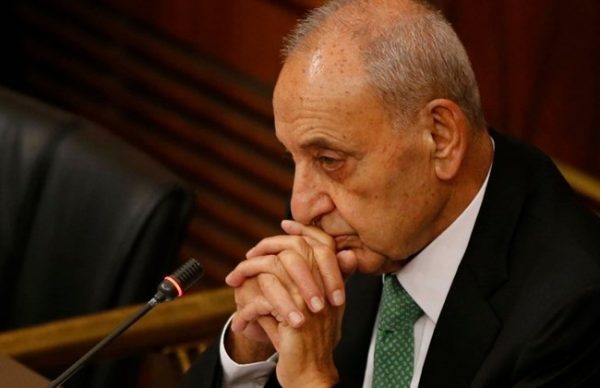 According to  media reports the parliamentary   session that Speaker Nabih Berri has scheduled for Thursday and Friday will "pave the way for extending the parliament's term."
"The session will pave the way for extension, which until now is being opposed by President (Michel) Aoun and his parliamentary bloc in addition to the MPs of the Phalange  Party," al-Hayat  daily quoted an MP as saying.
"This means that Speaker Berri is once again taking the initiative after he had left the mission of finding an electoral law to the political forces, especially to the new cooperation channels between Aoun and (PM Saad) Hariri, who have failed to reach a deal," al-Hayat added.
Berri has said that it is necessary to issue a law extending parliament's term before an April 15 deadline, "or else the legislative authority would slide into vacuum."
"The issue of extending parliament's term might be raised politically during the Thursday-Friday session, because voting on any extension proposal should take place during a legislative session that could be held a week later – unless a miracle happens and an agreement on a new electoral law is reached ahead of the April 15 deadline," al-Hayat quoted parliamentary sources as saying.
'Shameful' Extension
Maronite Patriarch Beshara al-Rai on Sunday warned against another extension of parliament's term, saying such a move would be "really shameful."
"We hope the reluctance from approving a new electoral law will not lead to another extension or to a situation with unknown dire consequences," the Patriarch cautioned in his weekly Sunday Mass sermon.
"We hope the procrastination from one month to another is not a way to extend the MPs' terms for as long as possible. This would be really shameful!," he added.
Anything better than vacuum
Free Patriotic Movement chief Jebran Bassil announced Sunday from Australia that an electoral law passed by "a large consensus" would be better than reaching parliamentary vacuum, extending parliament's term or returning to the controversial 1960 law.
"Should no solution be reached, let there be a vote in Cabinet or parliament," he added.
He revealed that    "the Free Patriotic Movement has so far proposed five laws"  stressing that " no one can reject them all".
"The latest law that I have proposed is still being discussed by the parties and Hezbollah is expected to present a final answer. No one can 'kill' an electoral law for Lebanon because no one can kill Lebanon," Bassil added in response to a reporter's question.
He also noted that the week from April 9 to April 15 will be "the week of the electoral law," pointing out that all parties will exert efforts to reach an electoral law.
Bassil has recently proposed an electoral law that mixes proportional representation with the controversial law proposed by the Orthodox Gathering.
Bassil's format calls for electing 64 MPs ( half the parliament ) according to the proportional representation system and 64 others by their respective sects under a winner-takes-all system.
Coup-like situation
Speaker Berri has warned that failure to approve a new electoral law might lead to a "coup-like situation" in the country.
"Time is not in anyone's favor and it is unacceptable to wait. The government must immediately shoulder its responsibilities towards the law and to exclusively focus its efforts on it," ad-Diyar newspaper quoted Berri as saying in remarks published Sunday.
"It should have discussed it earlier in order not to face pressing deadlines as is the situation today," Berri lamented.
He warned that the government's procrastination or failure to pass the law "might lead to a coup-like situation that topples everything."
"The first mission today should be to discuss and pass the electoral law," Berri urged.
According to reports, intensive contacts will be held after Prime Minister Saad Hariri's return from his foreign trip "in order to put the law on the Cabinet's agenda with the aim of approving it and referring it to parliament."
'Red Line'
The Hezbollah militant group and its ally the AMAL Movement  reportedly consider any parliamentary vacuum in the country a "red line" that should not be reached, Kuwaiti al-Anbaa newspaper  reported  on Sunday.
"Holding the elections under any law that wins a parliamentary vote is better than allowing vacuum to crawl into the legislative authority, a possibility that AMAL and Hezbollah consider to be a red line, the same as the rest of the political and sectarian forces," the report  added quoting its parliamentary sources as saying .
Hezbollah's no. 2 ( Deputy Secretary General Sheikh Naim Qassem)  stressed last month  that his  party insists  on passing a proportionality-based electoral law  for the upcoming elections.
The Iranian backed Hezbollah has repeatedly called for an electoral law fully based on proportional representation but other political parties, especially the Future Movement, have rejected the proposal and argued that the party's controversial arsenal of arms would prevent serious competition in regions where the Iran-backed party has clout.In 2013 Lebanese Forces and The Future Movement backed by the PSP agreed on a hybrid electoral law which calls for 54% of the MPs to be elected under the majoritarian winner-takes-all system and 46 % under the proportional representation system. This draft law was rejected by the Hezbollah-led March 8 opposition.
Also in 2013 Future Movement leader PM Saad Hariri rejected the electoral law that is based on proportional representation because there will be competition in some regions, but there cannot be any competition in other regions, because of the presence of Hezbollah weapons in them.
Hariri was referring to the 2009 election in the areas dominated by Hezbollah. According to the reports that surfaced back then Hezbollah gunmen prevented their rivals from voting and the results of the election showed it. On the other hand in the March 14 dominated areas several Hezbollah backed candidates won the election that was based on winner takes all  electoral law.
In a proportional representation system Hezbollah will be able to gain more seats in the March 14 dominated areas but will not lose any seats in its dominated areas as long as it is allowed to keep its arms and use them internally for political gain, according to political analysts
The country has not voted for a parliament since 2009, with the legislature instead twice extending its own mandate.
The 2009 polls were held under an amended version of the 1960 electoral law and the next elections are scheduled for May 2017.