Tulsi Gabbard's meeting with Assad draws disgust from fellow lawmakers
BY MIKE LILLIS
Democrats and Republicans appear equally rattled at Rep. Tulsi Gabbard's decision to meet this month with Syrian dictator Bashar al-Assad.
"There's a pretty unanimous feeling of shock and disgust," said a Democratic aide who works on national security issues. "Everybody I've talked to on both sides of the aisle, I think people are just stunned."
Republicans appeared more willing than Democrats to go on the record in ripping
Gabbard (D-Hawaii), an Iraq War veteran and a prominent member of both the House Armed Services and Foreign Affairs committees.
"An elected official, a representative of the United States, went on a secret trip to meet with the brutal dictator who had murdered nearly half a million of his own people –– it's reprehensible and cannot be justified," Rep. Adam Kinzinger (R-Ill.), another Iraq War veteran, said Thursday in an email.
"The actions of Congresswoman Gabbard have put our nation's reputation and foreign policy concerns at high risk and I couldn't be more disgusted."
Rep. Ed Royce (R-Calif.), chairman of the Foreign Affairs Committee, is also seething.
"Assad has exterminated hundreds of thousands of Syrians," a committee spokesman said Thursday. "This trip was not authorized by the committee, and it was just wrong."
Rep. Eliot Engel (N.Y.), the senior Democrat on the Foreign Affairs panel, offered a similar rebuke of Assad in a statement that did not explicitly criticize Gabbard or her decision to meet with Assad.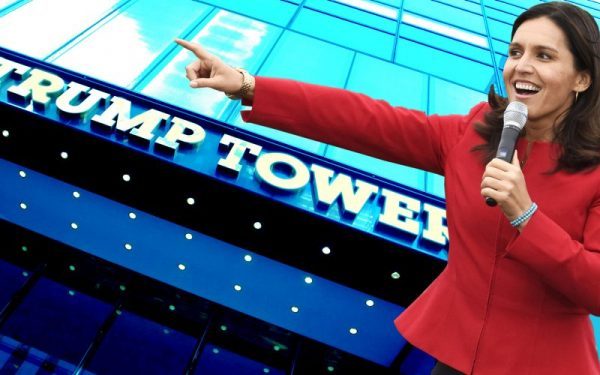 "Mr. Engel's position on Assad is well established: he's a war criminal and a murderer, he has supported and benefitted from terrorism, he has close ties to Russia, and he cannot have a role in Syria's future," spokesman Tim Mulvey said in an email.
Not everyone is blasting Gabbard, who backed Sen. Bernie Sanders (I-Vt.) in the Democratic primary and harshly criticized former President Obama's policies on Syria.
Rep. Brad Sherman (D-Calif.), the second-ranking Democrat on the Foreign Affairs panel, defended her trip, arguing that legislators have every right to examine the foreign policy they influence, even if it puts them face-to-face with loathsome folks.
"Congress has an equal role in the conduct of American foreign policy even if Congress doesn't negotiate directly on behalf of the United States," Sherman said.
"Sometimes we have to hear from and meet with leaders that are detestable," he added. "I have my disagreements with Tulsi on Syria policy, but knowing Tulsi, I am confident she comported herself admirably on this trip."
Gabbard said she had "no intention" of meeting with Assad as part of her clandestine trip to examine the state of Syria's brutal civil war.
But she grabbed the opportunity when it arose, she said, in an effort to expedite a peaceful resolution to the years-old conflict.
"I think we should be ready to meet with anyone if there's a chance it can help bring about an end to this war, which is causing the Syrian people so much suffering," she said Wednesday in a statement.
Gabbard gave no warning to congressional leaders that she was going –– a stealth that's clearly agitated her own leadership.
"I have no knowledge of the trip," House Minority Leader Nancy Pelosi (D-Calif.) told reporters curtly on Wednesday. "I don't know any of the particulars of it. I don't know the basis of the invitation, I don't know the auspices under which she went."
But Gabbard's office defended that decision Thursday, saying the trip was approved by the House Ethics Committee –– "the only House rules requirement," a spokeswoman said –– and kept secret from the public "for obvious security reasons."
Gabbard returned from her trip –– a seven-day venture to parts of Syria and Lebanon –– bearing a stark, two-pronged warning to Congress and the White House. One: The U.S. intervention in Syria's civil war is not helping "moderate" freedom fighters take on the Assad regime, but is actually propping up terrorists associated with al Qaeda and the Islamic State. And two: The U.S. should end its "regime change" war against Assad and focus its military might on al Qaeda and ISIS instead.
"From Iraq to Libya and now in Syria, the U.S. has waged wars of regime change, each resulting in unimaginable suffering, devastating loss of life, and the strengthening of groups like al-Qaeda and ISIS," she said in her statement.
The argument, however, is ringing hollow with many on Capitol Hill.
Critics say the thrust of her message –– that those fighting Assad are all terrorists –– sounds like it was pulled from a page of Assad's own propaganda machine.
"The talking points she's using about how there is no moderate Syrian opposition, and that everyone the Assad regime has been carrying out this campaign of violence on, that they're all terrorists, I mean, that sounds like something you hear on [Russia Today]," said the Democratic national security aide, referring to the Kremlin-backed news organization.
No one is questioning Gabbard's patriotism, the aide emphasized, "but on this issue, she finds herself well out of the mainstream."
Gabbard's office responded by pointing to a past statement: "There is no actual debate about the fact that ISIS and al-Qaeda are the most powerful opposition groups," she said in 2014.
Gabbard's decision to sit down with Assad has infuriated some human rights advocates.
"No one is against a political solution," Mouaz Moustafa, executive director of the Syrian Emergency Task Force, said Thursday by phone. "What the harm is in meeting with him is, it empowers him. This is a guy who believes that he can militarily win. He doesn't believe in a political solution."
Moustafa, who said he'd previously accompanied Gabbard to the Turkey-Syria border, said her meeting was "beyond shameful."
"What she's saying is, 'This is a legitimate president, everyone he's fighting is a terrorist, and we should empower him to continue to kill his own people,'" he charged.
Joining Gabbard on the trip were her husband; several peace advocates; and former Rep. Dennis Kucinich (D-Ohio) and his wife. The trip, she said, was "led and sponsored" by a group called the Arab American Community Center for Economic and Social Services of Ohio (AACCESS).
After several attempts, The Hill got through to AACCESS on Thursday. After learning the topic, the person answering the phone took a reporter's name and number and abruptly hung up. The group did not call back.
A Defense Department spokesman, Navy Capt. Jeff Davis, said Thursday that the Pentagon knew of the trip but had no hand in managing it.
"We were aware as it was happening," Davis said.
"We refer you to her to find out about how she got there and who sponsored her visit," he added, "but it was not us."
THE HILL