Assad's victory in Aleppo underscores his dependence on outsiders who will shape Syria's future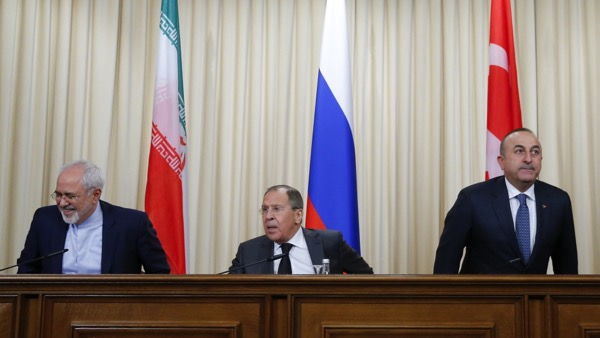 Under different circumstances, Syrian President Bashar Assad's capture of Aleppo would project an aura of invincibility. He has survived nearly six years of revolt.
Instead, it has underscored his dependence on outside powers.
Turkey, Iran, and Russia have tilted recent events in his favor, and it is those three players — and perhaps the incoming Trump administration — that are now best placed to determine Syria's endgame.
The three nations met in Moscow last week for talks on Syria that pointedly included no Syrians, indicating they prefer to pursue a grand bargain among great powers rather than a domestic settlement between the government and the opposition.
The warming of ties between Russia and Turkey, who back opposing sides of the civil war, may prove to be a game changer, potentially helping to end a conflict that has confounded the world's top diplomats for more than five years.
Their joint efforts on Syria — there is now talk of a nationwide cease-fire — reflect a desire to establish spheres of influence. Turkey might drop its support for rebels fighting Assad in exchange for freedom of movement in a border region where its troops are battling the Islamic State group and trying to curb the advance of U.S.-backed Syrian Kurdish forces.
Hassan Hassan, a Syrian analyst at the Washington-based Tahrir Institute, called the Moscow summit "a perfect example of how the Syria solution is now about a grand bargain whereby other countries negotiate on behalf of Syrians."
Syria's army was only able to win the battle of Aleppo with Russian support and the aid of thousands of Iran-backed militiamen from across the region. Turkey struck a deal with Russia to manage the rebels' surrender when they were on the verge of total defeat.
Turkey was an early backer of the rebels, allowing them to retreat and rearm across its largely porous border. But as Syrian Kurdish forces – answerable neither to Assad nor to his opponents – have expanded their canton along the border, Turkish President Recep Tayyip Erdogan has come to view them as a greater threat than Assad.
Turkey sees the main Syrian Kurdish faction as an extension of the Kurdish insurgency raging in its southwest. It has also grown increasingly concerned about IS following a series of attacks. The Syrian Kurds are battling IS, but Turkey describes both as "terrorists" who must be eliminated.
In August, Turkish troops and allied Syrian forces poured across the border, and in the following weeks they drove IS from its last strongholds along the frontier and halted the Kurdish advance.
With more than 5,000 forces inside Syria and a seat at the table, Turkey seems poised to establish a "sphere of influence" in northern Syria, according to Faysal Itani, an analyst at the Washington-based Atlantic Council.
It will likely press the issue when it meets with Russia and Iran in Kazakhstan next month. The Syrian government and some conciliatory opposition groups will be there, but it's unclear whether Syria's main, armed opposition will be invited.
The U.N. has meanwhile vowed to relaunch the long-defunct Geneva negotiations between the government and the armed opposition on Feb. 8. That process has repeatedly failed to produce tangible outcomes.
The deepening involvement of the outside powers has strengthened the government, but there are still large parts of the country outside its control, and many retaken areas have been reduced to rubble. The rebuilding effort in Aleppo alone is expected to require tens of billions of dollars , and the government is unlikely to get much Western aid.
"Europe has the money for reconstruction, and not Russia and Iran, and (Western nations) have made it clear they will not legitimize the regime," said Bassam Barabandi, a political adviser to the Syrian opposition High Negotiations Committee.
Any efforts to strike a grand bargain will also need to contend with a new U.S. administration that has hinted at a major change in policy while providing few details.
U.S. President-elect Donald Trump has said he wants closer cooperation with Russia in order to combat IS, while also suggesting he could drop U.S. support for the armed opposition. "We have no idea who these people are," he said in a newspaper interview last month.
On the other hand, he is openly hostile toward Iran and may seek to curb its influence in Syria.
Either way, despite the government's victory in Aleppo, Syria's fate is unlikely to be determined in Damascus.