NY A.G. warns Trump against shuttering his foundation while under investigation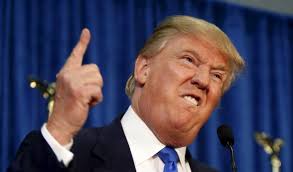 Donald Trump's announcement that he will shutting down his charitable foundation in an effort to avoid conflict of interest laws is being met with push-back from New York's Attorney General who reminded the president-elect that he and it are still under investigation.
On Christmas Eve, Trump's transition team announced the closure, stating: "To avoid even the appearance of any conflict with my role as President I have decided to continue to pursue my strong interest in philanthropy in other ways."
In a statement to ABC, the press secretary for the AG's office stated that an investigation into Trump's possible illegal use of the charity is ongoing and he must hold off on shuttering it.
"The Trump Foundation is still under investigation by this office and cannot legally dissolve until that investigation is complete," NY AG Press Secretary Amy Spitalnick wrote.
The investigation opened after reports that a $25,000 donation from the charity was given to a campaign fundraising group for Florida Attorney General Pam Bondi who dropped her office's investigation into the now-president-elect's shady Trump University.
Asked about the warning from New York's AG, Trump spokesperson Hope Hicks referred back to the original announcement to shut down the Donald J. Trump Foundation, writing: "As the statement says, 'Mr. Trump has directed his counsel to take the necessary steps to effectuate the dissolution.'"
Per Trump's statement, he's concerned about the mere appearance of impropriety, an unusual pang of ethical concern from a man who's about to turn the family business over to his sons rather than to independent trustees as he assumes the presidency.
The foundation has been the subject of much criticism, and has admitted to violating IRS rules by improperly giving money to someone close to the organization, according to a recent federal income tax filing.
The Trump Foundation reported assets of $1.12 million in its 2015 tax returns.
Although Trump touted the philanthropic efforts of his foundation, he has largely filled the charity's coffers with other people's money, according to a CNN review of the Trump Foundation's tax records in September. It is unclear if Trump has donated money to charitable causes outside of the foundation as he has refused to release his tax returns, which would shed light on his charitable contributions.
Alan Garten, the Trump Organization's general counsel, said earlier Saturday that attorneys and executives at the president-elect's company are "continuing to reevaluate various transactions that we're involved in" and said that "measures are being taken to sort of comply with all the conflict laws."
Trump has resisted calls to liquidate his company's assets and place them in a blind trust, and announced instead that he planned to hand over control of his company to his two adult sons, Eric and Donald Jr., and other top executives. Still, both Eric and Donald Jr. continue to serve on Trump's transition team.
His company's multi-billion-dollar international footprint will likely continue to raise questions about Trump's motives as he is sworn in and begins to direct US foreign policy.