Conservative front-runner in French race draws comparisons to Clinton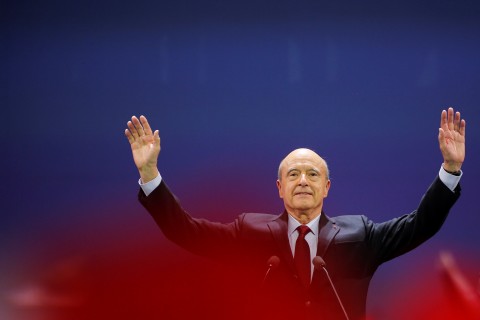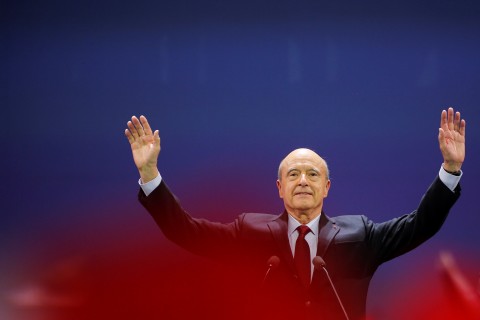 In his youth, he aspired to be the pope; only later would he aim for president.
Despite the change in ambition, Alain Juppé — the leading conservative contender for the French presidency — has maintained something of a prelate's sober discipline. If some find his solid reserve boring, others insist that his bland demeanor is precisely what makes him the ideal candidate for a France in the throes of economic malaise and reeling from a recent wave of terrorist violence. At 71, the Bordeaux mayor, calm and bourgeois, is often seen as a stern grandfather who can whip things into shape.
But for many — on the right and the left — Juppé's main appeal in the era of Brexit and Donald Trump is that he appears the safest bet to defeat the resurgent National Front, France's far-right populist faction, in the 2017 election. French media have long treated him as if his victory is inevitable, but Trump's astonishing upset has made Juppé's supporters increasingly anxious that their candidate may prove to be a French Hillary Clinton, stunned by a defeat no one saw coming.
Going into Sunday's first round of primary elections, polls still place Juppé ahead. But as countless commentators here have pointed out since Trump's victory, polls said exactly the same about Clinton right up to Election Day. And little by little, Juppé's main challengers — France's former president Nicolas Sarkozy and former prime minister François Fillon — are cutting into his lead. Whether he wins, experts say, will depend mostly on voter participation, typically low in France.
Alain Juppé and Hillary Clinton are different political animals from different political systems, but there are striking parallels between the two: age, the impression of competence and a perceived lack of empathy. Like Clinton, Juppé has been at the highest levels of public life for decades, a fixture of the establishment who has known his share of unpopularity and even scandal in his long career. Like Clinton, he launched an unlikely comeback and is seeking his country's top job later in life. Like Clinton, his campaign appeals to many voters merely because the alternative seems unacceptable.
"It's not what he says that matters," said Dominique Moïsi, a longtime friend of Juppé's and a co-founder of Paris's French Institute for International Relations. "It's the perception of what he is — a statesman, a man of gravitas and experience."
"After the victory of Trump, he is perceived as the best bulwark against Marine Le Pen, the last defender of the bastion, so to speak," Moïsi added. "Because he would do the best against Marine Le Pen."
By the same token, Marine Le Pen has much in common with Donald Trump: She has no experience governing, and she has continued the National Front's evolution into a fiercely anti-establishment party of economic protectionism and anti-immigrant fervor, especially Islamophobia.
Analysts still say a National Front victory in 2017 is unlikely but that Le Pen could prevail if Juppé loses to Sarkozy in the conservative primary contest. The latter has adopted the same anti-immigrant hard line Le Pen has, experts say, alienating the center left and center right voters he would need to stop her.
As France's Socialist Party is in shambles following the tumultuous tenure of François Hollande — the most unpopular French president in modern history and whose various responses to recent terrorist violence have alienated even his own political allies — the traditional left has begun to settle for the centrist Juppé as the best way forward in 2017. If he is pro-business, Juppé is also staunchly pro-European, and he has run on the inclusive concept of a "happy identity" for all citizens in a bitterly divided society.
Also appealing to the left is that Juppé's vision of France — in marked contrast to the nationalism espoused by Sarkozy and Le Pen — rests on an inclusive, albeit vague, conception of national identity. Notably, his vision is welcoming to Muslims, France's largest minority group and a community with which he worked extensively as mayor of Bordeaux.
"Of course I can see that France is suffering," he has said in response to his critics on the right. "But what should I tell the French people? That they're going to suffer even more? My message is a message of hope, and that's what the 'happy identity' is about."
"The left will not win the next election, thanks to these bad years of Hollande," said Patrick Weil, France's preeminent historian of immigration and a sharp critic of Hollande's failed and controversial proposal this year to denationalize convicted terrorists who hold French citizenship.
"People want to save the republic with a decent right-wing person. They don't want to risk Marine Le Pen. They don't want a Hollande-Le Pen scenario or a Sarkozy-Le Pen scenario. So the only way not to risk the republic is to have Juppé," Weil said.
Juppé was France's prime minister under President Jacques Chirac in the mid-1990s, when his proposed cuts to pension benefits drew thousands of protesters into the streets and ignited weeks of strikes. This was the source of his public image as cold technocrat, an image he has struggled to combat throughout his campaign.
Then, in 2004, Juppé was given a suspended jail sentence after a court ruled that under his leadership, France's center-right party had illegally employed staffers from Paris's city hall. His supporters are quick to say that his conviction reflected a system that was corrupt long before he was ever in charge, and that, regardless, most voters have forgotten the unfortunate episode.
But Marine Le Pen certainly has not. As she told France's L'Opinion newspaper in June: "[Juppé] is so much the symbol of the system that we're fighting that his candidacy could actually accelerate the process of reconstructing political life that I aspire to."
Juppé spent two years in Quebec after his sentence, reinventing himself as Bordeaux's mayor upon his return to France in 2006. At this, he has been largely successful, boosting the local economy and raising the city's profile as a tourist attraction, notably with an 81 million euro ($86 million) wine museum that opened this year on the banks of the Garonne River.
But these recent successes may not be enough to win him the primary or the presidency, and the same fate that befell a fellow career politician in the U.S. election could await Alain Juppé.
"The primary is becoming much more complex," said Moïsi, referring to the rising popularity of Juppé challengers. "And the advantage of Juppé has been diminishing by the day."
WASHINGTON POST