Aoun's first overseas visit will be to Saudi Arabia, plans to reactivate the military grants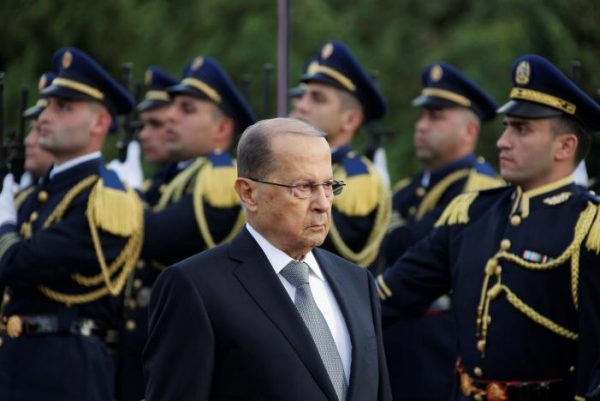 President Michel Aoun's  first foreign trip will reportedly be to   Saudi Arabia where he intends to push for the reactivation of the Saudi multi billion dollar grant  to arm the Lebanese army, As Safir daily reported on Saturday.
Preparations for the visit are ongoing, and the exact date will be set after the formation of the cabinet and after the cabinet wins a vote of confidence,  the daily added.
The 3 billion dollar grant for the armament of the Lebanese army with French weapons was suspended last year by the kingdom in protest against the Lebanese government reaction to the burning of the Saudi embassy in Tehran and another Saudi consult in Iran.
Whether Aoun will be able to convince the Saudi's to reactivate the grants is a huge challenge for  the newly elected president and boils down to trust according to analysts, because he  has been allied with Hezbollah for over 10 years  and its is because of Hezbollah and Iran the Saudi's canceled the grant.
Last  February  Saudi Arabia suspended  the  $3 billion grant   for military supplies to the Lebanese army  plus another $1  billion for  supplies to the Lebanese security forces in  response to  the diplomatic stance by the Lebanese foreign ministry which was and continues to be headed by Aoun's son-in-law Foreign  minister Gebran Bassil.
Analysts  are of the opinion that Saudi Arabia is concerned that Aoun,  being a close ally of Hezbollah may  allow the party to use some of the weapons in its war in nearby Syria where the  militant group is helping the Syrian dictator Bashar al Assad against the Saudi backed rebels .
Hezbollah was created by Iran around 1982 and continues to be financially and politically  backed by it.  Iran remains Saudi Arabia's regional rival , with whom relations have worsened this year.
Riyadh severed  its diplomatic ties with Tehran in January after demonstrators stormed its embassy and a consulate and set them on fire  following the Saudi execution of an Iranian backed  Saudi Shiite cleric and activist.
Relations improving
In a related development Saudi Charge d'affairs Walid al-Bukhari met with caretaker Foreign Minister Gebran Bassil on Friday.  His meeting  signaled an improvement in relations between Lebanon and the Kingdom , al-Joumhouria daily reported on Saturday.
According to  sources at the foreign ministry the atmospheres of talks was positive .
"Dialogue was positive, and the meeting came after previous strained relations between Lebanon and the Gulf State. There is no turning back and the Lebanese-Saudi relations are back on the right track, " al-Joumhouria added