Jumblatt : "There has never been a made in Lebanon president"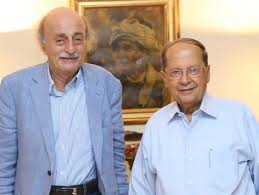 Progressive Socialist Party leader MP Walid Jumblatt has urged the rival political parties to seize the "historic" opportunity that brought President Michel Aoun to power and work on the swift formation of a new government.
"All parties should work swiftly on the cabinet lineup because the election of the president after more than two years of vacuum should be followed by the formation of the government," Jumblatt said.
The PSP chief told Asharq Al-Awsat newspaper that the rivals would facilitate the cabinet formation if they stop insisting on certain shares.
"We have to seize the historic opportunity," he said.
Jumblatt also rejected claims made by some politicians that Aoun's election late last month was a pure Lebanese decision.
"Some are saying that the president was made in Lebanon but such remarks are not accurate," he told the daily.
"There has never been a made in Lebanon president," the lawmaker told Asharq Al-Awsat in an interview.
"There was a sudden largescale international and regional consensus on the election of a president," he said.
Such a consensus means that the international community wants to distance Lebanon from the region's wars, Jumblatt added.
When asked whether the presidential elections are aimed at temporarily preventing the collapse of the state, the Druze politician said: "We have never been on the verge of collapse."
Asked about his share in the new cabinet, Jumblatt told his interviewer that he hasn't insisted on certain portfolios as part of his bloc's share in the government but asked for a services ministry and left it for Aoun and PM-designate Saad Hariri to decide.
"The share of the Druze sect in a 30-member cabinet will be three and I will have two representatives in it," he said.
The MP told Asharq Al-Awsat that the visit of Saudi Arabia's Arab Gulf Affairs Minister Thamer al-Sabhan to Beirut last month was "very important because it gave positive signs" that Saudi Arabia is returning to play a constructive role in Lebanon by possibly allowing Saudi and Gulf tourists to return to Lebanon and backing the country financially.
Jumblatt denied that the Lebanese parliament's term would be extended again.
"If there is a need for an extension, then it would be a short technical extension. There is no way out of the parliamentary elections," he said.
The PSP leader advised politicians to liberate themselves from the March 8 and 14 alliances.
"We can no longer keep ourselves captive to the March 8 and 14 equation," he said. "This division is over. Centrism is over too."
Asked about the new equation, Jumblatt said politicians should no longer line up along different camps.
"We should instead focus on supporting the army and security institutions, and the economy," he said.
"Political line-ups became obsolete when we all voted for Aoun" as president, he added.
Jumblatt also stressed that it is currently "not necessary to convince Hezbollah" to stop sending fighters to Syria in support of Bashar Al-Assad.
"This is an Iranian-regional issue," he said.
"Let's forget that Hezbollah is in Syria and deal with Lebanon's affairs. There are matters that are more important than Hezbollah's presence" in the neighboring country, Jumblatt added.
Asharq Al-Awsat