Entrepreneurship: World-renowned Tony Fadell inspires next generation at AUB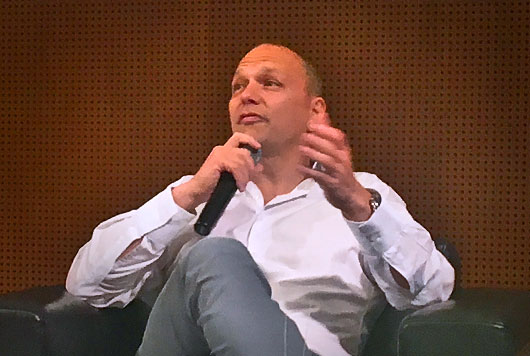 The AUB community sat down with the world-renowned designer, inventor, and entrepreneur Tony Fadell for an inspirational, informal fireside chat on entrepreneurship and the way forward today in the region.
Maamari Auditorium filled up with young entrepreneurs who were eager to learn some secrets of excellence in invention at an event organized by the Olayan School of Business (OSB), in collaboration with the Faculty of Engineering and Architecture (FEA). They cheered as Tony Fadell, founder of  "Internet of Things" pioneering company Nest Labs, walked into the auditorium, but fell silent in anticipation within seconds.
The informal couch conversation with Dr. Bijan Azad, Academic Director of the Darwazah Center for Innovation Management and Entrepreneurship at OSB, started with a discussion on the roots of entrepreneurship within the Lebanese heritage and touched upon the subject of business growth via technology, design innovation, and disruption – Fadell's idea of "pursuing new opportunities to create that disrupt other industries" as a determinant of success in a design or invention.
Known as "one of the fathers of the iPod" for his work on the first generations of Apple's music player, Fadell was asked to tell stories of success and failures and shed light on the worlds of design and business, tech entrepreneurship, and success in technology firms.
Making the case that it is never too early to become an entrepreneur, Fadell said that he had started doing business since he was in second grade with the idea of not only making money, but making money "his own way." He started becoming an entrepreneur before he knew  what entrepreneurship meant—in his mid-twenties.
"Since early on in my career, I would have an idea. I would go to the CEO and say I want to build this, would you let me build this?" said Fadell. "I created my own position, the exact product I wanted to do, convinced someone else to fund me – a corporation or an investor – and I built what I wanted to build, every single time. No one gave it to me. You have to figure out for yourself what it is that you want, and how you want to do it."
He advised the students to come up with that simple yet very powerful idea—a very hard task, he admitted. Companies may go for the complex products to showcase their skills, he said, but it is the simple products and services that everyone will know how to use and can afford. The most impactful inventions will solve problems that people have most probably become habituated to over time, as today for example power cuts in Lebanon are accepted by many as a given. "Don't wait for the government to solve it. Be an entrepreneur!" he said.
"Always start with a problem or a need. Go for the painkillers not the vitamins. You can tell when painkillers work. If your customer can see direct value from your product very quickly, you are solving their pain and they will buy your product. Go for a source of pain and go solve it. There's pain everywhere. Solve the basic need—it is easier for people to identify with—and over time, you can upscale," he added.
Fadell called the audience to "be a parent, not a baby sitter," explaining that parents challenge their children (the firm or idea in his metaphor) to grow, baby-sitters on the other hand go by the motto "do no harm", keep everything as is. Timing is important, he said, entrepreneurs should be sure that the world is ready for their product and then work to keep it alive.
Fadell advised that AUB as an institution should "continue to look at fundamental research that helps build technology that can start great business here or worldwide." He believed that there are problems to solve in the region and that the region offers a good, suitable market to design and jumpstart many original technologies.
"It is important that you have a direction," Fadell said. "There are two critical questions that I ask people I want to hire: 'what do you want to learn' and 'what did you realize about yourself from each decision that you made throughout your career to get to this stage'. I want to hear about the passion inside that directed you to decide what you want and to go for what you want… Design your calendar. Take charge. Live the way you want and invest to better it."
AUB's young entrepreneurs had an invaluable opportunity for open and candid conversations as they lunched with Mr. Fadell, asked questions at the fireside chat to further understand the foundations of business and success, and had informal conversations with the speaker after the talk.
"It is the exposure to such icons in technology entrepreneurship and hearing them share their experiences, their success, and the challenges they faced that complete our education journey," said business student Tracy Al-Ayli.
"One of our aims is to present, in a soft and indirect way, positive role models for AUB students to be like or to work for people like Tony Fadell," said Dr. Azad. "We also want our students to focus on real local and regional problems as the source of innovation, away from fads like designing drones and apps only.  We were happy to see Mr. Fadell give invaluable feedback to entrepreneurs who have graduated from AUB.  Through networking and collaboration, we hope to set an example in tech entrepreneurship in Lebanon and the region."
AUB