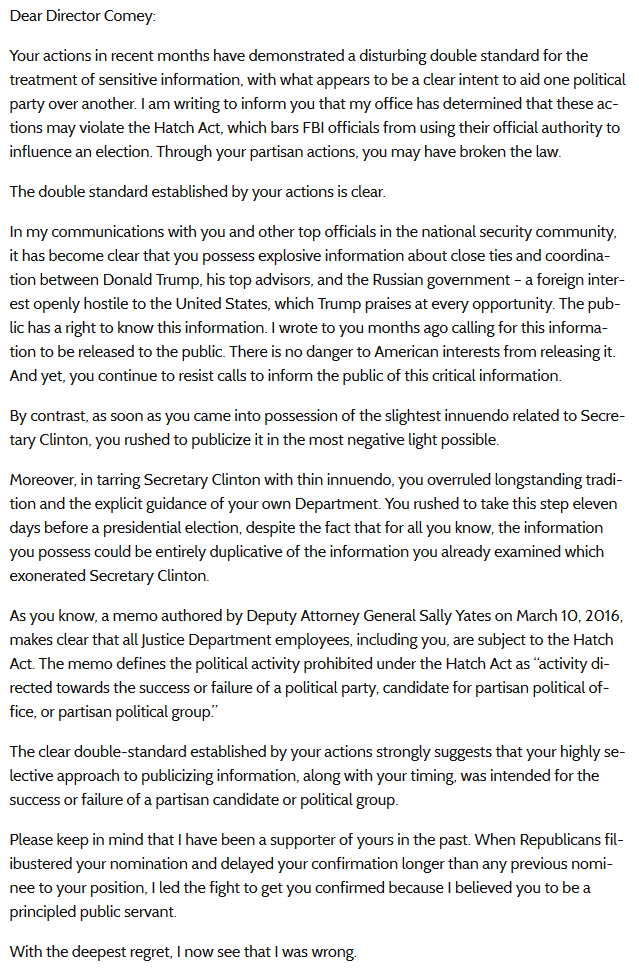 Reid's allegations prompted a flurry of speculation as to what the FBI might know as well as accusations that it may be cherry-picking what information it releases to the public for the purposes of influencing the election.
Manafort resurfaces
Citing law enforcement and intelligence sources, NBC News reported on Monday that the FBI had launched a preliminary inquiry into the overseas business interests of Paul Manafort, Trump's former campaign chief.
Manafort told NBC that "none of it is true… There's no investigation going on by the FBI that I'm aware of." Manafort also denied having any ties to Russian President Vladimir Putin or the Kremlin.
"This is all political propaganda, meant to deflect," he said.
The Trump campaign did not respond to a FRANCE 24 request for comment by press time. What is known is that Manafort's firm acted as a political adviser to Ukraine's pro-Kremlin prime minister Viktor Yanukovych, helping his party win the largest bloc in 2006 parliamentary elections and in 2007 securing him a second term as premier. Handwritten, "black" ledgers appeared to show that Manafort was paid $12.7 million in cash by Yanukovych's party between 2007 and 2012, the New York Times reported in August. The payments, which were revealed by Ukraine's new National Anti-Corruption Bureau, have been denied by Manafort's lawyer.
The anti-corruption bureau, which receives funding from both the United States and the European Union, has an evidence-sharing agreement with the FBI. It said in a statement on its website that Manafort's name appears 22 times in the black ledger over a five-year period.
Officials in the Cayman Islands are also investigating Manafort's business dealings, including his involvement with off-shore shell companies set up to purchase Russian and Ukrainian assets. Manafort and his partners set up a Cayman Islands private equity company in 2007 that listed a firm owned by Russian oligarch and Putin ally Oleg Deripaska as an investor, the Times reported, citing court filings. Deripaska invested millions into the fund, which purchased a cable television station in Odessa. The deal eventually collapsed in acrimony, with Deripaska suing Manafort in a court case that is still pending.
But it appeared to be a bridge too far for the Trump campaign when emails surfaced showing that Manafort deputy Rick Gates – who also worked on the Trump campaign – was involved in a lobbying project for Ukraine's then ruling party, which included setting up "meetings between a top Ukrainian official and senators and congressmen on influential committees", the AP reported.
The efforts included attempts to sway US public opinion in favour of Ukraine's pro-Russian government at the time. But neither Manafort nor Gates registered that they were working as foreign agents, as required under federal law.
Manafort left the Trump campaign in August, just days after the reports came to light.
Russia attempts to woo Trump?
Other media reports allege a more sinister link between Trump and Russian interests. Also on Monday, left-leaning magazine Mother Jones reported that a former senior Western intelligence officer who specialises in Russian counterintelligence told the FBI that the Kremlin has for several years sought to cultivate Trump, citing recent communications with Russian sources. (A senior US official familiar with the former officer confirmed to Mother Jones that he is a credible source.) The revelation prompted the FBI to request more information.
The former intelligence officer, who asked not to be identified and who now works for a US firm providing corporate clients with information on Russia, was asked to research Trump's overseas interests, including those in Russia. The inquiry was part of an opposition research project initially financed by a Republican client critical of Trump.
"It started off as a fairly general inquiry," the former officer told David Corn, Washington bureau chief for Mother Jones. But upon digging deeper, he found that "there was an established exchange of information between the Trump campaign and the Kremlin of mutual benefit".
"Russian regime has been cultivating, supporting and assisting TRUMP for at least 5 years," said the former officer's first memo, seen by Mother Jones. "Aim, endorsed by PUTIN, has been to encourage splits and divisions in western alliance [emphasis in original]."
Trump "and his inner circle have accepted a regular flow of intelligence from the Kremlin, including on his Democratic and other political rivals", the memo continued. It went on to state that Russian intelligence had "compromised" the real estate mogul during his visits to Moscow and could attempt to "blackmail" him.
The response from the FBI was "shock and horror", the ex-official told Mother Jones.
"In August the FBI asked him for all information in his possession and for him to explain how the material had been gathered and to identify his sources," Corn writes. "The former spy forwarded to the bureau several memos – some of which referred to members of Trump's inner circle."
The official continued to share additional information with the FBI. "It's quite clear there was or is a pretty substantial inquiry going on," he said.
"This is something of huge significance, way above party politics. I think [Trump's] own party should be aware of this stuff as well."
Trump's campaign did not respond to a Mother Jones request for comment on the new allegations. But in the past Trump has unequivocally denied receiving any political help from Moscow.
"I have nothing to do with Russia," he told CBS in July.
Business interests
The billionaire has promoted Trump real estate in Russia and other former Soviet bloc states, however, and several analysts have observed that his foreign business dealings might create conflicts of interest if he is elected. For one, the Western sanctions levied on Russia for its role in Ukraine might prove to be at odds with Trump's own financial interests.
"Will I sell condos to Russians on occasion? Probably. I mean I do that. I have a lot of condos. I do that. But I have no relationship to Russia whatsoever," Trump told ABC's George Stephanopoulos.
Trump has said he will not take part in business decisions if he becomes president and will instead leave day-to-day operations to his children in a blind trust. But Richard Painter, a law professor who was an ethics adviser to former president George W. Bush, said this arrangement might not go far enough.
"I don't see how you have a blind trust when you know what's in the blind trust," Painter told ABC News. "The appearance is that a foreign government or other foreign organization has influence over the president of the United States through financial dealings with his family, and that would be unacceptable."
Trump has repeatedly denied having financial interests inside Russia. "For the record, I have ZERO investments in Russia," he wrote on Twitter in July.
Trump may not hold assets in Russia, but one of his sons has spoken publicly about their lucrative business dealings with Russian clients both in the United States and abroad.
"[In] terms of high-end product influx into the US, Russians make up a pretty disproportionate cross-section of a lot of our assets; say in Dubai, and certainly with our project in SoHo and anywhere in New York," Donald Trump Jr. said in 2008, speaking at a real estate conference in New York. "We see a lot of money pouring in from Russia."
It remains difficult to determine whether Trump holds any Russian assets since he has refused to release his tax returns, breaking with a tradition followed by every US presidential candidate since 1976.
Russian hacks
Speaking to lawmakers on September 28, FBI Director Comey said the FBI was trying to figure out "just what mischief is Russia up to in connection with our election".
But when on October 7 the US government formally accused Russia of hacking political targets – saying the hacks were specifically "intended to interfere with the US election process" – Comey asked that the FBI's name be kept off the official statement, according to several people involved in the discussions.
A former bureau official told CNBC this week that Comey did not want his bureau to be involved in accusing Russia of interfering in the vote so close to Election Day despite the FBI's role in the investigation.
In the end, a statement was jointly issued by the Department of Homeland Security and the director of national intelligence, saying that the US was "confident" the Russian government "directed the recent compromises of e-mails from US persons and institutions".
"We believe, based on the scope and sensitivity of these efforts, that only Russia's senior-most officials could have authorized these activities," the statement said.
Comey agreed that a foreign power was trying to affect the presidential vote. "He believed it to be true, but was against putting it out before the election," the ex-official told CNBC.
Comey's concern about the timing of the hacking revelations ahead of the November 8 vote has left many confused, considering his decision to notify Congress last week that the FBI was planning to review newly discovered emails on a laptop seized from the home of Huma Abedin, a top Clinton aide.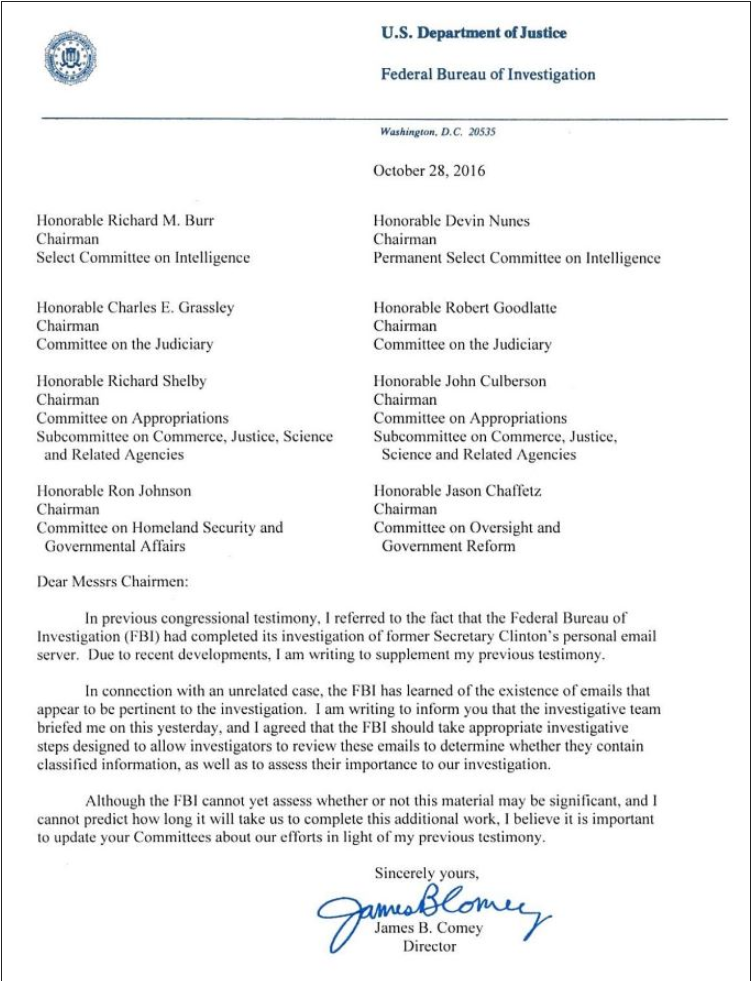 'Deep concern' to voters
Despite Monday's revelation that Manafort was once again the target of a preliminary FBI inquiry, the New York Times reported that same day that the FBI had found no evidence "that would link him or anyone else in his business or political circle directly to Russia's election operations".
But as the paper itself notes, "The FBI's inquiries into Russia's possible role continue" with respect to the Clinton campaign hacks.
The paper said that "even the hacking into Democratic emails, FBI and intelligence officials now believe was aimed at disrupting the presidential election rather than electing Mr. Trump".
But several US politicians have said that more should be done to separate fact from fiction with respect to the allegations.
Representative Adam Schiff of California, the ranking Democrat on the House Intelligence Committee, told NBC that he could not discuss Senate Majority Leader Reid's assertions that the FBI was sitting on "explosive" information of Russia's involvement with Trump. But he would say the allegations should worry the US electorate.
"Americans have every right to be concerned about what they see in terms of Trump advisers and their closeness with the Kremlin, Trump's policies vis-a-vis Russia, Trump's potential financial interest – all of those things ought to be of deep concern to voters."
Democratic Representative Gregory W. Meeks of New York has suggested that the FBI needs to be more forthcoming about what it is or is not investigating with regard to Trump.
"You do not hear the [FBI] director talking about any other investigation he is involved in," Meeks told the New York Times after Comey's letter about the new emails was made public. "Is he investigating the Trump Foundation? Is he looking into the Russians hacking into all of our emails? Is he looking into and deciding what is going on with regards to other allegations of the Trump Organization?"
President Barack Obama has refrained from criticising Comey for his announcement but even he eventually weighed in on the controversy swirling around the FBI chief, saying US investigations should not "operate on innuendo".
"[There] is a norm that when there are investigations, we don't operate on innuendo, we don't operate on incomplete information, we don't operate on leaks," Obama said. "We operate based on concrete decisions that are made."
FRANCE24