Lebanon Speaker: It will take 5-6 months to form a government after election of a president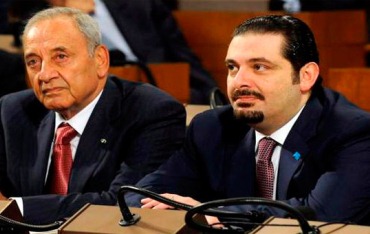 Lebanon's parliament speaker, Nabih Berri, believes that even if Michel Aoun is elected president next week after a vacancy of more than two years forming a government will take from five to six months, he was quoted as saying in a newspaper on Monday.
Berri, one of the most enduring figures in Lebanese politics, is one of Aoun's main political opponents.
While Aoun might not secure the two-thirds majority of members of parliament needed for election in a first round of voting, sources say he could probably win by a simple majority in a second round.
Lebanon has been without a president for more than two years, part of a political crisis that has resulted in a breakdown in many basic services and concerns about the country's stability.
Members of parliament will vote on a president on Oct 31 after former prime minister Saad al-Hariri said on Thursday he would back Aoun as president, part of a deal in which he is expected to again be appointed as prime minister.
Lebanon's dominant movement, Shi'ite Hezbollah, is allied to Aoun and its leader Sayyed Hassan Nasrallah said on Sunday his members of parliament would vote for him in the election.
In Lebanon, after a president is elected he or she must consult with the members of parliament before appointing a prime minister tasked with forming a government, something that the speaker, Berri, said he believed would take months.
"If al-Hariri is entrusted with forming a government, and we reach its formation, I believe it will take at least five to six months," Berri was reported as saying in an interview with the daily al-Safir.
Berri, parliament speaker since 1992, is the head of Amal, a Shi'ite party allied with Hezbollah, but he opposes Aoun's nomination. Hariri, head of the Future Movement, is Lebanon's main Sunni politician and only recently decided to back Aoun.
REUTERS