Aoun meets Nasrallah, thanks him for facilitating the presidential issue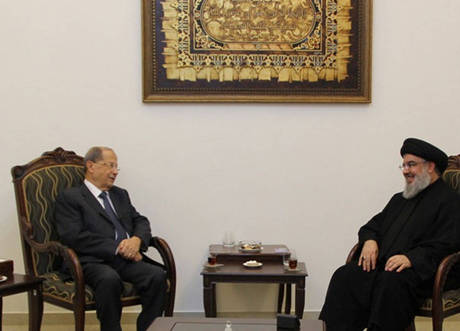 Hezbollah leader Hassan Nasrallah received on Sunday presidential Free Patriotic Movement founder MP Michel Aoun, who thanked him for facilitating the presidential issue, al-Joumhouria daily reported on Monday.
The meeting was reportedly held in the presence of head of the FPM Minister of Foreign Affairs Gebran Bassil, Nasrallah's adviser Hajj Hussein Khalil and Hezbollah's top security official Wafiq Safa.
"We are here today to extend our gratitude to Sayyed Nasrallah for helping us resolve the deadlock that hampered the election of a president," said Aoun after the meeting in a  possible reference to the obstruction of the presidential issue  for over 2 years by the Iranian-backed party
On Sunday, Nasrallah had renewed in a speech his support for Aoun's nomination for the top state post, he said: "Our commitment to General Michel Aoun's nomination is final. The Loyalty to the Resistance bloc will attend the session and all the members will vote for General Aoun."
Speaker Nabih Berri, who has openly declared his opposition to the election of Aoun, has pledged that his bloc will take part in the October 31 electoral session and that he will not try to strip the meeting of its quorum.
Berri's aides have accused Aoun and former PM Saad Hariri of striking a "bilateral" agreement that would marginalize Shiites in power, allegations that Aoun and his movement have denied.
Boycott
The Lebanese parliament failed again on September 28th and for the 45th time in a row to elect a president to replace Michel Suleiman whose term ended on May 25 , 2014.
As in the past sessions the parliament was unable to reach a quorum because Hezbollah and its ally Aoun's Change and Reform bloc MPs boycotted the session, because they could not reportedly guarantee Aoun's election as a president.
Berri a key ally of Hezbollah postponed the election to October 31st.
Aoun and Marada Movement leader MP Suleiman Franjieh are the 2 main candidates for president and both are key members of the Hezbollah-led March 8 alliance. Franjieh may drop his bid after Hariri gave up on him and endorsed Aoun