Lebanon army chief: FPM slams extension of Kahwaji's term , calls it "illegal"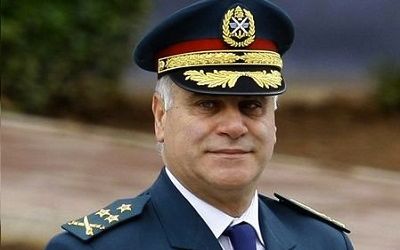 The Free Patriotic Movement on Thursday strongly condemned a decision by Defense Minister Samir Moqbel to postpone the retirement of Army chief General Jean Kahwaji and vowed that it will not "remain silent" over "the insistence on violating the laws."
"It is a flagrant violation of all laws that can be added to the series of violations that the government has committed or overlooked in the domain of national defense and many other domains," FPM said in a statement.
"In his illegitimate and illegal decision, the defense minister relied on flimsy excuses that do not serve the military institution but would rather weaken it and harm the morale of its finest officers through depriving them of their natural and legitimate right to be promoted to the most senior posts," the movement added.
And warning that it "will not remain silent over the insistence on violating the laws," FPM pledged that it will "do everything necessary to put and end to the continued destruction of the State."
Earlier in the day, Moqbel announced that he would sign a decree extending Kahwaji's term before midnight.
"We will not accept vacuum in the military institution. I will sign a decision today to extend the term of Kahwaji since the cabinet failed to convene Thursday," he said.
"Security threats are surrounding us from all sides," the minister warned.
The cabinet failed to meet and discuss the military appointments because FPM and its allies recently suspended participation in cabinet sessions in the wake of a decision by Moqbel to extend the term of Higher Defense Council chief Maj. Gen. Mohammed Kheir.
The movement also suspended its participation in national dialogue meetings and threatened street protests and a "political system crisis" over accusations that the other parties in the country are not respecting the 1943 National Pact that stipulates Christian-Muslim partnership.
Kahwaji's term has already been extended twice since 2013 despite objections from the FPM, which had been reportedly lobbying for the appointment of former Commando Regiment chief Brig. Gen. Chamel Roukoz, son-in-law of FPM founder MP Michel Aoun as a successor to Kahwaji.